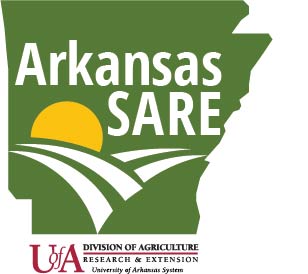 2021 CAFF Beginning Farmer Classes
Learn the fundamentals of farming! Network with other new farmers and discover resources available to help you succeed in the 2021 beginning farmer classes hosted by the Center for Arkansas Farms and Food!
Classes in 2021 are virtual on Zoom unless otherwise indicated. Register for as many classes as you like, each course is offered independently. Classes listed as location TBD will be on-farm, with limited registrations, if COVID-19 restrictions at the time allow.
Each class costs $10
Register and Pay at: https://farmandfoodsystem.uark.edu/payments/
See schedule below or download the 2021 Beginning Farmer Classes Flyer.
| Date | Time | Location | Session |
| --- | --- | --- | --- |
| 1/14/21 | 6-8:30 PM | ZOOM | Planning Your Sustainable Farm Business |
| 1/19/21 | 6-8:30 PM | ZOOM | Soil Health |
| 1/21/21 | 6-8:30 PM | ZOOM | Sustainable Crop Production I: Nutrient and Water Management |
| 1/26/21 | 6-8:30 PM | ZOOM | Recordkeeping Systems: Production & Business |
| 1/28/21 | 6-8:30 PM | ZOOM | Farm finances: Bookkeeping/Income & Expense Tracking/Cash Flow |
| 2/2/21 | 6-8:30 PM | ZOOM | Sustainable Crop Production II: Managing Insects, Weeds and Disease Pests |
| 2/4/21 | 6-8:30 PM | ZOOM | Sustainable Crop Production III: Crop Planning and Rotations |
| 2/9/21 | 6-8:30 PM | ZOOM | Postharvest Handling and Food Safety |
| 2/11/21 | 6-8:30 PM | ZOOM | Markets and Marketing |
| 2/16/21 | 6-8:30 PM | ZOOM | Access to Land |
| 2/18/21 | 6-8:30 PM | ZOOM | Access to Credit: FORGE. Farm Credit, FSA, Building Credit |
| 2/22/21 | 6-8:30 PM | ZOOM | Food Justice: Equity and Inclusion |
| 2/25/21 | 6-8:30 PM | ZOOM | Communication Skills and Techniques |
| 4/16/21 | 1:30-5:00 PM | TBD | Regernerative Agriculture + Farm Tour |
| 5/13/21 | 1:30-5:00 PM | TBD | Farmscaping, Native Plants and Pollinators + Farm Tour |
| 7/18/21 | 1:30-5:00 PM | TBD | Season Extension Part 1: Farm School Tour |
| 8/15/21 | 1:30-5:00 PM | TBD | TBD & Farm Tour |
| 9/19/21 | 1:30-5:00 PM | TBD | When To Hire A Lawyer + Farm Tour |
| 10/17/21 | 1:30-5:00 PM | TBD | Season Extension Part II: Farm School Farm |