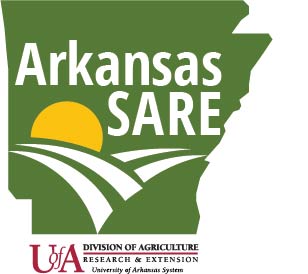 Arkansas County Agents Attend Oklahoma Pecan Growers Convention
About the Arkansas SARE Program:
The Arkansas Southern Sustainable Agriculture Research and Education (SSARE) Professional Development Program annually develops trainings and provides support to agricultural professionals to attend meetings related to sustainable agriculture. Our goal is to then have these professionals take what they learn and help producers in their area apply sustainable practices to their operations.
With support from the Arkansas SARE Program, two University of Arkansas Cooperative Extension Service (UADA-CES) county agents and members of the Tri-County Pecan Demo team were provided travel scholarships to attend the Oklahoma Pecan Growers Association's Annual Convention & Trade Show in Ardmore, Oklahoma in June.
The event was a full schedule of presentations on pecan insects, diseases, cultivars, scab fungicide trials, and research opportunities in pecan pest management. Topics also included: FSA Opportunities, chilling hours for pecans, reducing long term input costs while maintaining production in native groves, ice storm damage recovery, hedging vs. tree thinning and a sustainability and marketing growing panel. Speakers were from Oklahoma State University and the Noble Institute.
Pecan food and nut shows were held in conjunction with the convention. The trade show provided an opportunity to see pecan equipment and visit with vendors. The convention concluded with a Field Day at Hauni Creek Ranch. Keith and Tammy Feather, White County pecan producers, joined Sherri Sanders, White County extension agent and Kyle Sanders, Lonoke County extension agent for the three-day event.