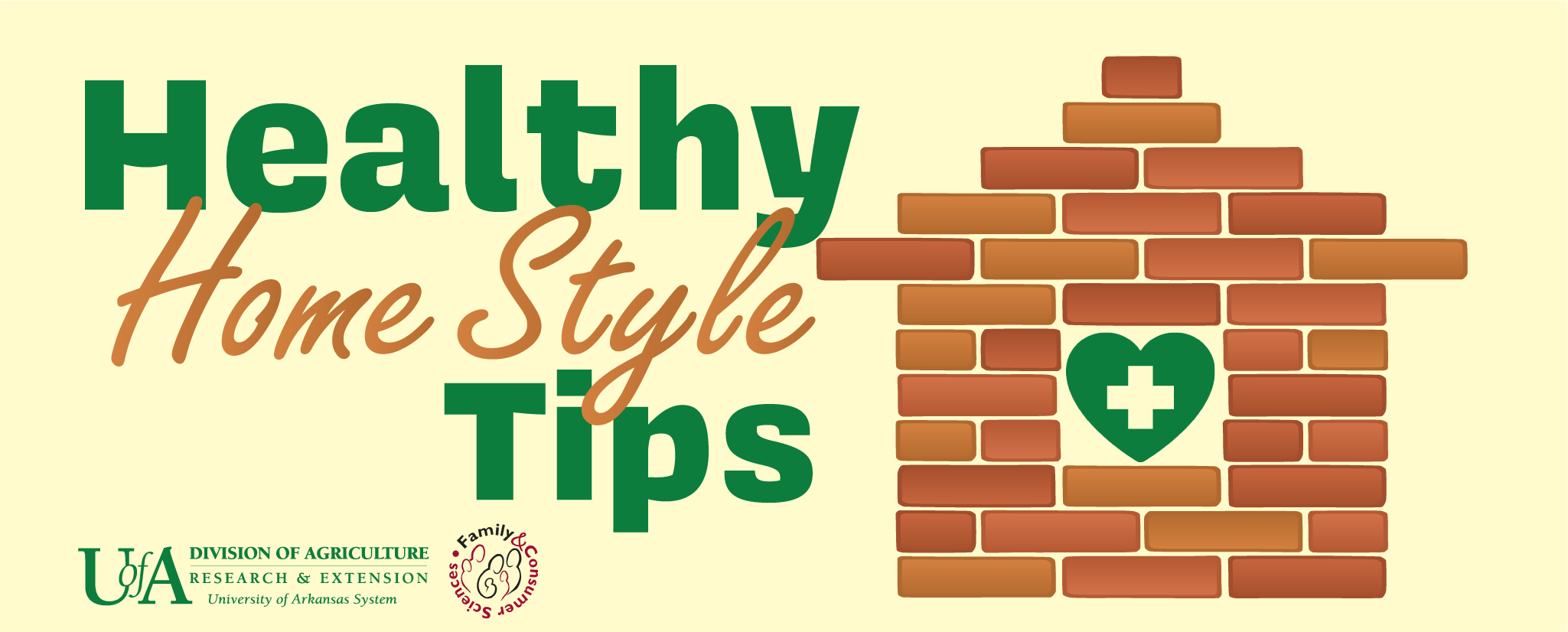 Healthy Home Style Tips
Tips from Extension Educator Kristal Draper on keeping our homes healthy and stylish!
Lunchbox dilemma – what would you like for lunch?
by Kristal Draper
Soon this question will be asked a lot, what would you like for lunch? School will be back in session at area schools soon and children with backpacks and lunch boxes will be a familiar sight. The dilemma begins with what to pack in that lunchbox that is both healthy and acceptable to your child. In a brown bag or colorful lunch box, you can make your child's lunch worth bragging about.
With a little planning and preparation, you can pack lunches with ease, and you will know it's healthy. Planning is key. Plan out what you will put in the lunch; make sure it has a protein, healthy grain, and strive for 3 fruits and/or vegetables. Let your children buy milk from school and you have provided them with a well-balanced lunch.
For many, sandwiches are the mainstay of the brown bag lunch. Add variety to the lunch by trying different kinds and shapes of breads. Breads made from whole-grains, such as whole-wheat, multi-grain, rye, and pumpernickel provide additional dietary fiber as well as introduce a new flavor to the same old sandwich. Bagels, biscuits, rolls, tortillas, bagels and pita pockets are a few of the breads that lend different shapes to sandwiches.
Consider a tortilla wrap with lean turkey, spinach leaves and cheese rolled up and cut into spirals for little hands or cut in half for older children. You have included 4 of the 5 food groups. Add a fruit salad cup and you have a complete meal that you can make the night before and refrigerate.
Already tired of the cheese sandwich? Send cheese cubes and pretzel sticks for them to make their own kebabs. Freeze the cheese cubes the night before and they will thaw by lunch time, still safe to eat. Add in a hardboiled egg, grapes, and cucumber and carrots with ranch dressing. With a little prep work, you have included all the food groups.
Check the school policy for peanut butter. Some schools have policies against it due to severe allergies. If your school does not, then add variety to the peanut butter and jelly sandwich by replacing the jelly with slices of fresh fruit like bananas or apples. Or make a peanut butter and banana "dog." Spreading peanut butter between raisin bread makes another yummy sandwich. Add in cherry tomatoes and sugar snap peas and the meal is complete.
Many grab bags of chips to go with a sandwich. Instead of chips, send pretzels, pretzel crisps, whole wheat crackers, whale shaped crackers or cheese flavored crackers. They get one serving from the grains group, whereas chips provide little more than calories, fat, and sodium.
Think out of the box when you prepare lunch. Consider an English Muffin Pepperoni Pizza with salad on a stick, apple slices, and cantaloupe and watermelon. Don't worry about the lunch items not being warm, kids are used to eating pizza and other foods cold. Have you seen how many of those prepackaged boxes there are? So make them at home and pack them. Then you will know they are eating healthy because you can choose turkey pepperoni and add veggies such as diced onions and the sweet yellow bell pepper and they have a pizza that will be the envy of the lunchroom.
Include grilled cheese sticks with marinara sauce, salad on a stick, and mandarin oranges. Make it up the night before and refrigerate. Include money for milk at school, a napkin and fork for the oranges. This is another easy, well balanced meal.
Think out of the box on vegetables, crunchy raw vegetables like carrots, broccoli, cauliflower, spinach leaves, red, yellow and orange bell pepper slices with dipping sauce are usually a hit. If you aren't sure your child will eat those, give it a try; you might be surprised. Chances are they may have already tried them at school. Make salad on a stick, using a coffee stirrer, alternate spinach leaves, cherry tomatoes and mozzarella cheese cubes. Add a small container of dressing. Or if you have salad eaters, make a chef's salad in a cup. All you need is a plastic cup with layered salad ingredients and a container of dressing on the side. Add an apple or clementine and it's a balanced meal. Just don't forget the fork.
Be creative and think out of the box. The same old sandwich and chips can get boring. Don't forget to include cheerful note, riddle or words of encouragement. A simple smiley face drawn on paper can brighten anyone's day, regardless of how old they are.
English Muffin Pizza Snack
English muffin
Pizza sauce
Mozzarella cheese, shredded
Chopped yellow, orange and red bell pepper and onion
Turkey Pepperoni
Cut English muffin in half.
On cut side, add pizza sauce to cover and spread around.
Add one teaspoon each of chopped bell pepper, and onion on sauce.
Place pepperoni on top of sauce.
Top with mozzarella cheese.
Bake at 350 degrees for 5-10 minutes or pack in lunch uncooked.
The recipe can be heated and then refrigerated or included in their lunch box uncooked.