Better Than Takeout
Are you looking for Asian Cuisine that can be cooked at home?
Have you ever thought it would be better than getting it at a restaurant?
You can stop looking! This recipe is better than any takeout and you can customize it to your liking!
General Tso's Chicken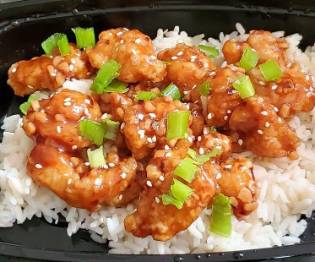 Ingredients for the chicken:
1 1/2 lbs boneless skinless chicken thighs cut into 1 inch pieces

2 eggs lightly beaten

1/2 cup corn starch

1/2 cup all-purpose flour

2 teaspoons sesame seeds

2 tablespoons green onions sliced

Vegetable oil for frying

Salt and Pepper to taste
For the sauce:
2 tablespoons vegetable oil

2 teaspoons minced garlic

1/4 teaspoon crushed red pepper flakes more or less to taste

3/4 cup low sodium chicken broth

2 tablespoons hoisin sauce

2 tablespoons brown sugar

1/4 cup low sodium soy sauce

1 tablespoon corn starch or more to thicken
Instructions
Place the eggs in a bowl, lightly beat.

In a separate bowl, mix together the flour and corn starch. Set aside.

Heat 3 inches of oil in a deep pot to 350 degrees F.

Dip each piece of chicken into the egg, then coat in the flour mixture. Repeat this process for all the chicken.

Fry 8-9 pieces of chicken at a time for 5 minutes each or until browned. Repeat with the remaining chicken pieces.

While the chicken is cooking, prepare the sauce.

Heat 2 tablespoons of oil in a saucepan over medium heat. Add garlic and crushed red pepper flakes and cook for 30 seconds.

Whisk together the chicken broth, hoisin sauce, brown sugar, and corn starch.

Add the liquid mixture to the pan and bring to a simmer. Cook for 2-3 minutes or until sauce has thickened.

Add the chicken pieces to the pan and toss to coat with the sauce. Sprinkle sesame seeds and green onions on top and serve.
Serve with rice or quinoa of your choice and a side of broccoli or other preferred vegetable.
Recipe Notes (optional) :
If you don't like spicy, go light on the red pepper flakes.

Add honey if you like a sweeter taste.

Try cooking the chicken in an air fryer if you have one for a slightly healthier option.
Nutrition based on the above ingredients
Calories: 365 kcal | Carbohydrates: 43g | Protein: 26g | Fat: 18g | Saturated Fat: 2g
Cholesterol: 162mg | Sodium: 672 mg | Potassium: 442mg | Sugar: 21 g
Vitamin C: 21mg | Vitamin A: 240IU | Calcium: 53 mg | Iron: 2.3mg