Cooperative Extension News & Publications
Garland County, Arkansas
Welcome to our newsletter page! Check out our latest newsletters below and sign up to our mailing list!
Contact our county Extension office for additional information.
---
Family & Consumer Sciences and Extension Homemakers Council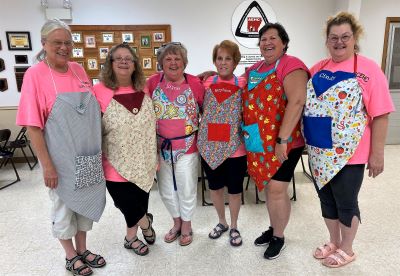 Photo: Members of the Crazy Quilters Extension Homemakers modeling their sample aprons they made for a 4-H youth summer sewing camp
Garland County EHC Quarterly SCOOP
The Garland County Extension Service and Homemakers Council sends out a quarterly FCS newsletter known as the SCOOP. The SCOOP includes relevant educational information and highlights activities and accomplishments by our Garland County Extension Homemakers council and clubs over the previous quarter. It also provides information on upcoming EHC meetings and events on both the county, district, and state level.
---
Agriculture and Natural Resources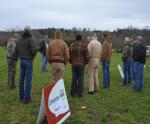 Photo: Garland County Field Day at Meredith Farm
Garland County Beef Producer Newsletter
Commercial agriculture is a vital part of Garland County. To help meet the needs of county residents, the Garland County Extension Office sends out agriculture newsletters to address concerns and points of interest and to promote upcoming agriculture-related events. You can register to receive our quarterly newsletter for beef producers.
---
Garland County Master Gardener Program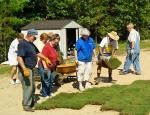 Photo: Habitat for Humanity - Garland County Master Gardener project
Garland County Master Gardener Newsletter
The Master Gardener volunteer program sends out a monthly newsletter highlighting activities and accomplishments over the previous month and reminders of upcoming county, district, and state events and meetings.
---
Garland County 4-H Youth Program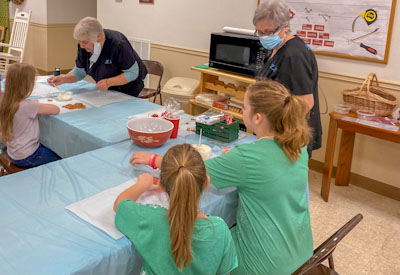 Photo: Youth learning how to make chocolate covered pretzels for gifts at the 4-H Holiday Workshop sponsored by the Garland County EHC.
Garland County 4-H Clover Circular
Garland County 4-H'ers and volunteers keep up with all of our 4-H events and opportunities through our monthly 4-H Clover Circular. Through our county 4-H activities members and students are able to learn through hands-on learning experiences about real-life situations, animal husbandry, horticulture, healthy living, leadership, and STEM.
---
Want to receive any of our newsletters?
Use the QR code to share the newsletter registration form.