Free Online Training for Arkansas Business Owners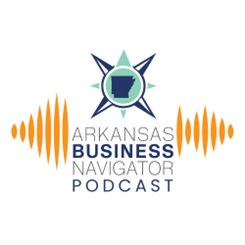 When I learned about free educational platforms for business owners in Arkansas, I was excited. It fits as a part of my role to help business owners in the state access available resources. Naturally, I needed to use our podcast platform to advocate for it because delivering non-conventional education to Arkansas is a part of the Arkansas Cooperative Extension's aims. These services need to be spotlighted so our entrepreneurs can take advantage of them.
I am a bit of a road runner serving the Southwestern corner of the state meeting business owners from all spectrums of life. The consistent theme I am uncovering is that most business owners that I have met didn't start out with a plan. So, when adversity happens, they are blindsided, and they don't know how they should respond. Other negative results that come from not having a plan are loss of strategic direction, poor resource management, and ultimately business closure. We in the small business support ecosystem do not want to see any of these things happen.
Check out this excerpt from our Jan. 19 episode of the Arkansas Business Navigator podcast where I talk about these situations:
"Running a small business is multifaceted and complex. You need to be able to be a great leader of people, manager of money and a problem solver. You need to do those things at a high level. Everyone has innate talent and gifts that are naturally ingrained in them or the environment they exist in provokes them to develop and keep certain skill sets. The problem is people don't know what they don't know.
Some business owners come from fertile ground with mentorship, financial resources or social capital that make the tough job a little easier. And some people come from barren land with a talent and dream. Therefore, all these programs I am about to mention, including the Arkansas Business Navigator, exist to help you find what part of their CEO you need to strengthen for your businesses to be the best they can be."
(2023, January 19). Arkansas Business Navigator podcast, Free Self-Guided Education Platforms, Arkansas Business Navigator Events Around the State (No. 6) [Audio podcast episode]. Arkansas Business Navigator podcast)
Whether you are looking to develop skills, develop better strategies for your business or learn something new, there's a course for you. If you're looking to outsource employee training to a self-directed course, the Reimagine Workforce program is a smart choice for you, and you have customization options there as well. Check out these websites for more training opportunities: SBA Learning Center, SBA Ascent, and Reimagine Arkansas Workforce Project.
With our podcast we hope to conveniently deliver information to you that's easily accessible. With about 50% of American smart phone users owning an iPhone (Singh Walia, US smartphone market share: By quarter: Counterpoint 2022), getting our podcast on Apple's podcast platform was imperative.
Initially we had a delay getting on Apple podcast, now I am excited to let you know that the delay is over, so we are officially available on all major podcast platforms. Apple users can now into their podcast app and get to the Arkansas Business Navigator podcast. If you haven't heard an episode yet we have 7 out now, all with great for small business owners.
Give us a listen.