Arkansas APEX Accelerator (PTAC) Success Story: All Seasons Lawncare and Janitorial, Inc.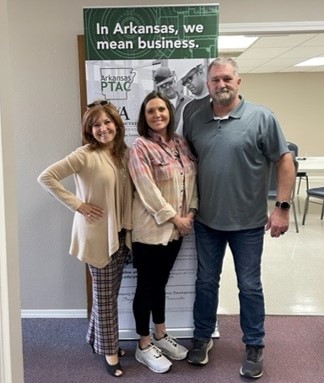 All Seasons Lawncare and Janitorial, Inc., based in Russellville, was founded in 2004 by Greg and Sarah Harris. Having successfully provided mowing and lawncare services in the local area, the company ventured into the government marketplace and won its first government contract with the United States Army Corps of Engineers (USACE) in 2014 for a three-year term to perform mowing at Greer's Ferry Lake near Heber Springs.
A highly-popular tourist destination and recreational lake for Arkansans and out-of-state visitors alike, the dedication of the Greer's Ferry Dam was the last public event President John F. Kennedy made before his tragic assassination in Dallas. Its cleanliness and attractiveness are vital to the USACE and the state's reputation.
In 2018, All Seasons transitioned to a woman-owned small business, adding cleaning and janitorial services to its core competencies. With a full-time team of six employees and five contractors, today, the company performs contracts for the USACE at multiple locations, including cleaning and mowing at Greer's Ferry Lake and janitorial services at the USACE Project Office in Russellville. They have grown their annual revenue from that initial contract of $164,000 to approximately a quarter of a million dollars annually. Their mowing team is now widely-recognized for their colorful pink shirts all across the area.
Over the eight years that they have been active in the government marketplace, the Harrises have periodically reached out for assistance from Arkansas APEX Accelerator (PTAC) to ensure that they could not only provide competitive proposals and win solicitations but to also successfully perform the contracts that they have won, so that they would be firmly positioned to pursue new opportunities in the future. After learning from contracting officers this year that they would need to meet cybersecurity requirements to comply, they again contacted Arkansas APEX Accelerator (PTAC) to help them navigate this process.
Kimberly Randle worked with the Harrises, meeting remotely and in-person, to ensure this is accomplished. It is crucial not only for their current contracts, since they are commencing the third year of a 5-year award, but also for upcoming contracts that they hope to be awarded, including potentially adding a new location.
"We are so grateful for the helpful assistance, all at no cost, provided by the Arkansas APEX Accelerator (PTAC) and for Kimberly's help in streamlining and navigating this new process. This frees us to continue to focus on our business, provide jobs for our employees, and contribute to the state we love and are proud to call home," Sarah Harris said.
To utilize the no fee services offered by the Arkansas APEX Accelerator to meet requirements and stay compliant in the government marketplace or to learn more about the benefits, don't hesitate to contact us at PTAC@uada.edu.