Did You Know—Stats About Agriculture in Arkansas from LeadAR Virtual Session
Agriculture in Arkansas contributes $19.4 billion annually to the state's economy.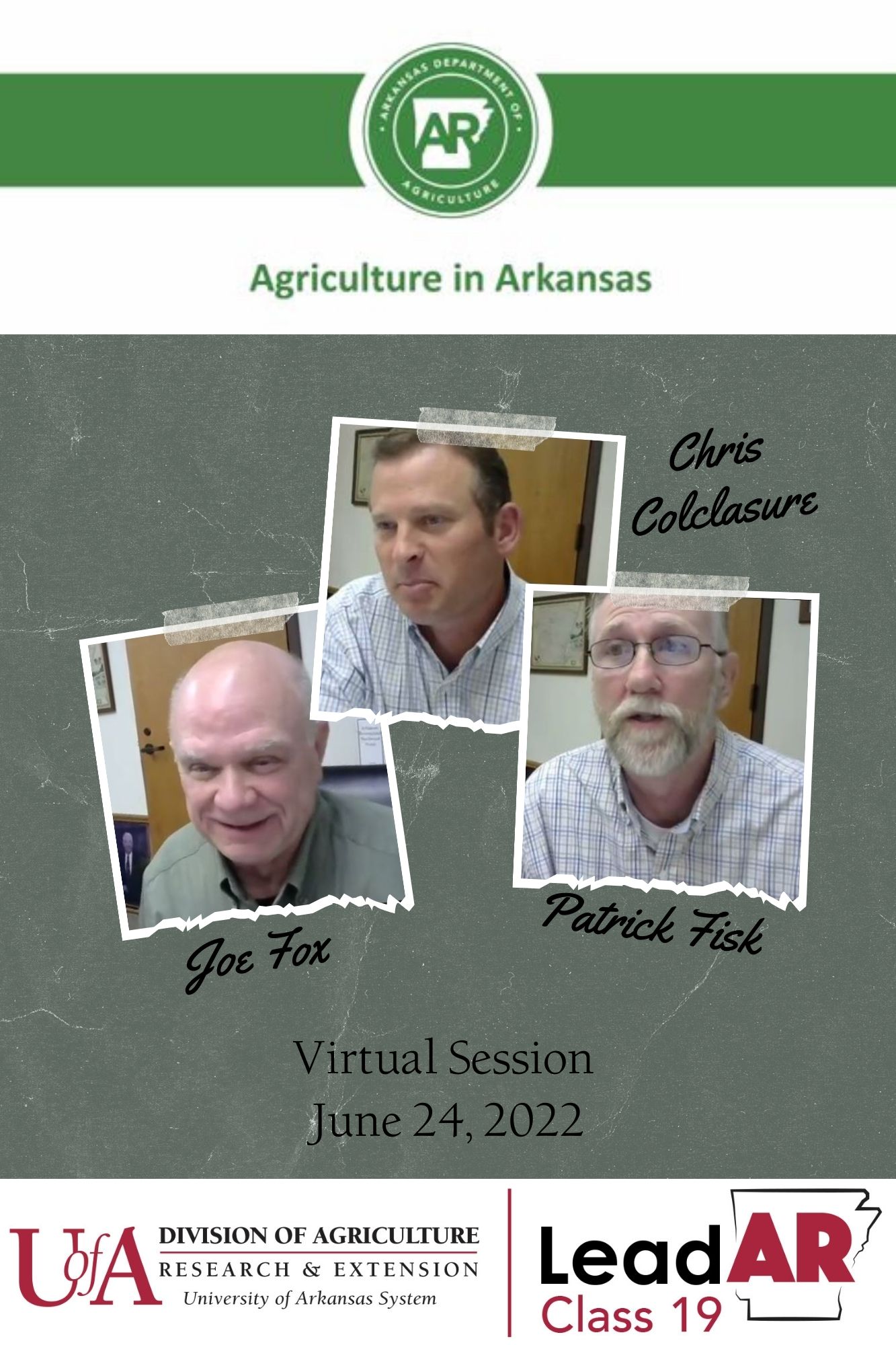 Representatives from the Arkansas Department of Agriculture shared many details about agriculture industry in Arkansas with LeadAR Class 19 participants in the June 24, 2022, virtual session. Details include:
Agriculture accounts for one of every six jobs in Arkansas.
42,200 farms and ranches operated on 14 million acres with agriculture operations in all 75 counties.
Arkansas consistently ranks in the top 25 nationally in the production of 16 agricultural commodities.
Forestry
Joe Fox, forestry division director, discussed forestry in Arkansas. He said, the mission of the division is to protect Arkansas' forests, and those who enjoy them, from wildland fire and natural hazards while promoting rural and urban forest health. Highlights of his presentation include:
Arkansas forestland covers just under 19 million acres, with a bit under 12 billion trees.
More than 55% of the entire land mass of Arkansas is forested.
10 million acres of Arkansas forestland is in non-industrial, private ownership.
Arkansas is nationally ranked 6th in forestry products valued at over $6.4 billion.
In 2021, Arkansas produced 44 million tons of forestry-related products and timber.
Livestock and Poultry
Patrick Fisk, livestock and poultry division director, shared information about livestock and poultry. The primary goal of the division is to protect animal and human health from zoonotic and other communicable animal diseases.
He said Arkansas is nationally ranked in the following:
1st in egg exports
3rd in chicken broiler meat
4th in catfish
4th in turkey meat
Top 10 in egg production
11th in beef cows
17th in cattle and calves
25th in hogs and pigs
Plant Industries
Fox shared information about the Plant Industries division. Its mission is to protect and serve the citizens of Arkansas and the agricultural and business communities by providing information and unbiased enforcement of laws and regulations set by the Arkansas State Plant Board, thus ensuring quality products and services.
He provided the following data:
Arkansas is ranked #1 in rice production nationwide, valued at $1.3 billion annually.
Arkanss peanut growers harvested 38,000 acres last year.
Nearly 3 million acres of soybeans were harvested last year.
Over 100 million bushels of corn was harvested in 2020.
Arkansas' cotton crop was valued at $427 million in 2020.
Natural Resources
Chris Colclasure, natural resources division director, discussed the Arkansas Natural Resources division. He said it serves as the lead agency for conserving Arkansas land and water resources. In 2021, the division had the following impacts:
Provided technical training and support on flood risk reduction to 1,700 community officials representing 425 towns, cities, and counties.
Provided technical assistance and $1.4 million to 44 projects associated with the abatement/reduction or control of nonpoint source pollutants.
Funded six Unpaved Road Program projects.
Developed 917 nutrient management plans.
Class 19 also heard from Lisa Davis, leadership program associate, about the initial itinerary of the international studies tour to Portugal in September. More details to come.
LeadAR is a program designed to help Arkansans broaden their understanding of issues and opportunities facing our state and strengthen their ability to make a difference. For more information about LeadAR, visit the website or contact Robinson, jrobinson@uada.edu, or Lisa Davis, ldavis@uada.edu.