Landscape Shrubs
Sasanqua Camellia
(Camellia sasanqua)
There are two major flavors of camellia in Arkansas: sasanqua camellia (Camellia sasanqua) and Japanese camellias (C. japonica). Camellias are a wonderful flowering broadleaf evergreen for central and southern Arkansas, but one is better suited for reliable flowering than the other.
First, let's separate the two most common camellia species. Sasanqua camellias typically flower in the fall, sometime between September and December. Leaves are clearly smaller on sasanqua, giving the plant a finer texture. There are other subtle differences between these species, like the way petals drop, but the key for this discussion is when these two species flower. Japanese camellia, because it typically flowers after the New Year, is open to the ravages of an Arkansas winter and spring. Since the buds and petals are loaded with water, only ideal conditions result in untouched flowers. In contrast, with sasanqua camellia, most flowering is completed before the worst of an Arkansas winter settles in. It is simply a game of timing and odds.
In northwest Arkansas, choices are even more limited. There is a very good series of hybrids known as the 'Ackerman hybrids,' which would be your best bet. Dr. William Ackerman was a breeder at the U.S. National Arboretum, and his breeding program has given us lots of valuable ornamental plants. Most of his fall-blooming, cold-hardy camellias have the name winter in the cultivar name. Some of these include 'Winter Star,' 'Winter Rose,' and 'Winter Snow.' You may not be impressed with the habit of many of these, as they tend to be more open and not as dense as other camellias. Based on research at Asheville, NC, the following cultivars are also recommended for cold hardiness: 'Spring's Promise,' 'Winter Interlude,' 'Pink Icicle,' 'April Blush,' 'April Remembered,' and 'Snow Man'.
Proper placement is critical for Arkansas camellias. Like many other broadleaf evergreens, locating this plant in partial sun and away from exposed, windy sites is important. Make sure camellias receive adequate water in the fall and early winter to minimize leaf drying. Camellias prefer a well-drained soil rich in organic matter.
In general, most camellias are large, rounded shrubs that reach 9' to 12' with a similar spread. The University of Arkansas plant evaluation program recently evaluated C. sasanqua Hot FlashTM. This camellia was barely 3' tall after five years, which might make it suitable as a foundation plant.
Common Name: camellia
Varieties to look for: many
Flower Color: white, pink, red
Blooming period: late fall or early winter depending on species
Type: broadleaf evergreen shrub
Size: large; 10' tall x 10' wide depending on cultivar
Exposure: partial sun
Soil: amend with organic matter
Watering: moist best
When to prune: spring
Suggested use: foundation, screen, mass planting
Red flower structure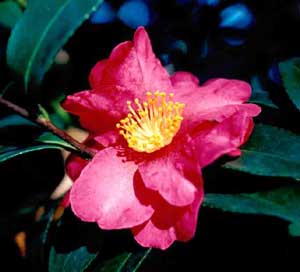 Leaf structure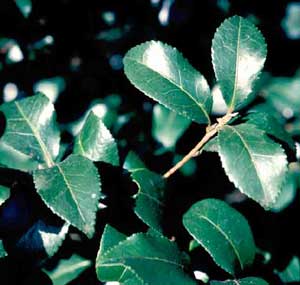 Form with flowers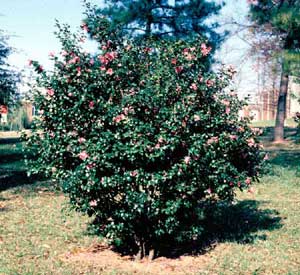 Fruit