Landscape Shrubs
Gardenia
(Gardenia jasminoides)
For gardeners in Central and South Arkansas this pick should be a no brainer. Gardenia is a choice broadleaf evergreen that should be used more often near patios or entryways. The foliage on the species is glossy, dark green and arranged in an opposite or whorled fashion along the stems. The elongated ovate leaves are two to four inches in length. It is rumored that the more cold hardy forms can be identified as having smaller leaves. From a texture and color standpoint the leaves match well with Himalayan Sarcococca (Sarcococca hookeriana) and Japanese Skimmia (Skimmia japonica). While hard to find in the trade, there are selections with fully variegated leaves ('Variegata') or with a creamy white margin ('Radicans Variegata')
Besides the very clean and attractive foliage, gardenia is certainly recognized for its heavenly scented flowers that appear from mid-May through mid-July with a peak in early June. Flowers consist of six to seven bleached white petals. A typical flower is two to three inches in diameter. As the flowers age the white fades to a distinctive medium yellow so at peak flowering you see a polka dot effect of white and soft yellow. Many of the new cultivars offer quite a contrast in flower appearance from semi-double ('Chuck Hayes') to double ('August Beauty', 'Radicans'). With most of these cultivars the petals tend to be more pointed (e.g. 'Kleim's Hardy', 'Frost Proof') than the straight species. Don't spend much time looking for the fruit since it is rarely seen. The 1.5" long, ovate shaped berry has six longitudinal ribs and starts dark green and changes to a dull orange.
Another goal of many of these newer cultivars is reduced plant size. The species tends to be a medium sized shrub often 6-8' tall with a similar spread, however, many cultivars grow no taller than 2' but have a slightly wider spread. 'Radicans' and 'Kleim's Hardy' tend to be about 2.5' tall while 'White Gem' should be less than 2' tall.
For those in the Northwest (USDA cold hardiness zone 6) part of the state you want to find the most cold hardy selection you can ('Chuck Hayes', 'Frost Proof', 'Kleim's Hardy', 'Michael', 'Shooting Star'). Someone really needs to conduct a valid scientific evaluation of these cultivars to verify cold hardiness among these selections.
From a cultural standpoint, gardenia is like many other broadleaf evergreens in that they benefit from having a moist, well-drained soil, high in organic matter with an acid soil pH. In Arkansas I think partial sun is the ideal situation. In full sun you must provide consistent moisture during the hot summer months and in dense shade the plants tend to open up in habit.
Gardenia is not free of pest problems. Don't be too surprised if you don't have problems with whiteflies, thrips, scale, mealybugs, and aphids. If you can't see the insects you will likely see the sooty mold indicating sucking type insects.
Common Name: gardenia
Varieties to look for: 'Kleim's Hardy', 'Radicans', 'White Gem'
Flower Color: white
Blooming period: May to July
Type: broadleaf evergreen shrub
Size: 6-8'tall by 6- 8'wide
Exposure: partial sun ideal
Soil: well drained, slightly acid
Watering: consistent moisture
When to prune: rarely required
Suggested use: specimen, entryway, foundation
Form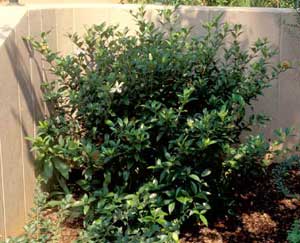 Leaf structure

Form with flowers

Fruit