Landscape Shrubs
Buckeyes
(Aesculus)
This is almost like choosing a wine. Do you want a red or a white? Shrub forms of buckeyes offer a choice in either flower color.
In mid-April the very impressive red buckeye (Aesculue pavia) is in full flower in Arkansas's woods. It is not often that we see true lipstick red in shrub flowers. Red buckeye starts flowering about the second week in April in central Arkansas and the bloom lasts two to three weeks. The contrast between the six-inch long terminal panicles and the medium green leaves is striking. Scanning the woods you will notice this shrub dotting the understory. If you get close, you can appreciate the red floral tube with a small yellow-orange lip or dot. This is a perfect plant to attract hummingbirds.
Red buckeye is either a large shrub or small tree. Some outstanding specimens that have been trained with multiple trunks stand 15 feet tall. A single trunk tree at Brookside Gardens in Maryland is nearly 30 feet tall. This plant has a coarse texture year-round. The palmately compound leaves have a very tropical look. In the winter, only a few artistic branches remain.
Leaves start the season a glossy, medium green. In Arkansas, the leaves look pretty beat up by August because of the intense Arkansas summer heat and a blotch disease. Even if they do hang on until fall, the fall color would be yellowish at best.
The 1.5" diameter fruit capsule is smooth in contrast to the spiny husk on common horsechestnut (Aesculus hippocastanum). Once the smooth husk splits, it reveals a beautiful, shiny chestnut-colored seed.
Situating this plant should be fairly easy; it's ideal for the edge of the woods or in a woodland setting. Although the habit of an older plant would make it an ideal specimen plant, avoid featuring this plant in a prominent garden location. In August, leaves on this plant generally looked very ragged due to a foliar disease and normal leaf scorch. For that reason, you want to make this plant one piece of a diverse woodland planting.
When planting red buckeye in your garden, try amending the soil with organic matter. Keeping the soil moist can help reduce the amount of leaf scorch in late summer, but it still can't be avoided.
If you want a white/cream colored buckeye, your choice should be the bottlebrush buckeye (Aesculus parviflora). In late June to early July, you are treated to an impressive flower display with large (10-12") terminal panicles.
The coarse, palmately compound leaves are very similar to the red buckeye. Plant habit is fairly consistent. The plant typically forms a large patch that is 8' tall by 12-15' wide. Leave lots of room for this plant!
Although this plant will grow in full sun in other parts of the country, stick with a shade or partial shade location in Arkansas. Near the edge of a wooded area would be ideal.
If you have the space in your woodland garden, give one of these buckeyes a try.
Common Name: red buckeye and bottlebrush buckeye
Varieties to look for: none
Flower Color: true red or white/cream
Blooming period: late spring or early summer
Type: deciduous shrub/tree
Size: large shrub or small tree; 15-20' tall x 15-20' wide
Exposure: shade
Soil: amend with organic matter
Watering: moist best
When to prune: after flowering
Suggested use: component of woodland garden
Red buckeye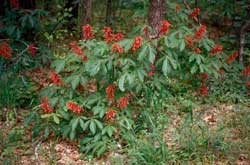 Leaf and flowers

Bottlebrush buckeye

Leaf and flowers