Master Gardener Multi-Flower Design
There's a reason why we call them Master Gardeners! Refer to the list below to learn more about each plant, and with a little hard work you too can become the master of your garden!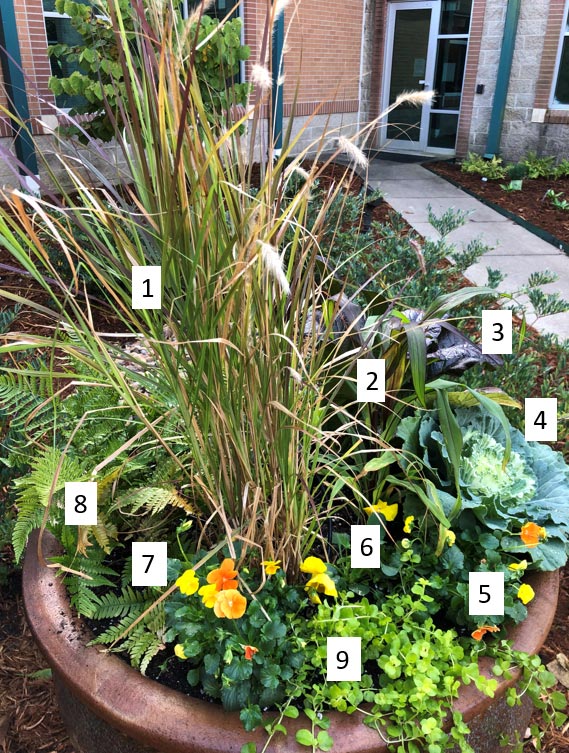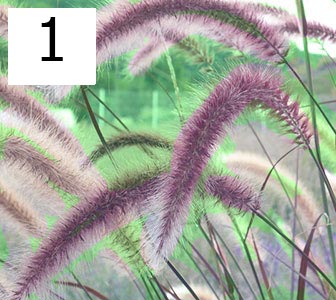 Purple Fountain Grass
Pennisetum setaceum atropurpurea, 2-3' tall by 1-2' wide.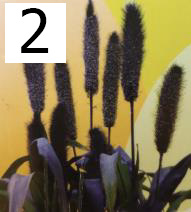 Purple Baron Millet
Pennisetum glaucum, 30-40" tall by 10-14" wide; attracts birds.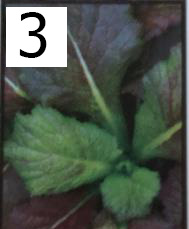 Red Giant Mustard
Brassica juncea, 12-24" tall; flavorful leaves for cooking and salads.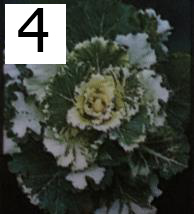 Osaka White Flowering Cabbage
Brassica oleracea, 6-12" tall by 12-18" wide; edible but not tasty.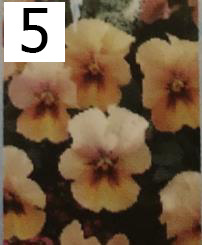 Chiller Pansy "Nature"
Viola, 6-10" tall; hybrid cross between pansies and violas.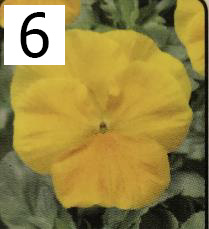 Colossus Yellow Pansy
Viola wittrockiana, 6-8" tall.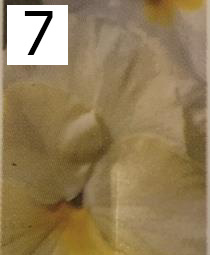 Pure Primrose pansy
Viola wittrockiana, 6-8" tall.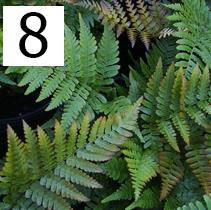 Autumn Fern
Dryopteris erythrosora, 1-2' tall by 1-2' wide.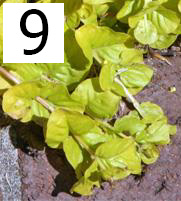 Creeping Jenny
Lysimachia nummularia, 4" tall by 12-18" wide.
Shrubs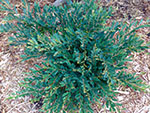 Cinnamon Girl® Distylium
The shrubs in the ground behind the containers are called Cinnamon Girl® Distylium. This is a new shrub adaptable to different sunlight and water conditions. It has small red flowers along the end of the stems in the winter, but it is mainly a foliage plant. The leaves are small and emerge plum-purple turning blue-green as they mature. The plant is evergreen and stays a compact size: 2-3 feet tall and 3-4 feet wide.