Home Garden Fruits & Nuts in Arkansas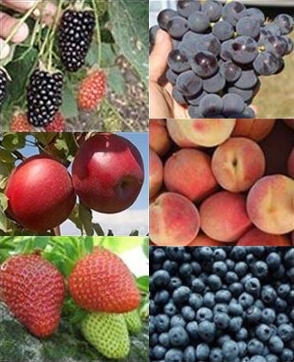 Growing fruits and nuts in the home garden can be very rewarding since one gets to eat "the fruits of their labor." However, fruits and nuts require a very high level of management, particularly in pest management.
Considerable attention should be paid to selecting and preparing the planting site, choosing cultivars with local adaptation and pest resistance, and following pest and cultural management practices.
The University of Arkansas has a rich heritage in fruit breeding. The effort was begun by Dr. James N. Moore, Distinguished Professor Emeritus in 1964. This effort continues under the direction of Dr. John R. Clark, University Professor of Horticulture with the Bumpers College of Agricultural, Food and Life Sciences at the University of Arkansas at Fayetteville.
The University of Arkansas' fruit breeding program has an emphasis on adaptability to Arkansas' climate. The program is based at the Arkansas Agricultural Experiment Station's Fruit Research Station in Clarksville, with testing of developments at the Southwest Research and Extension Center in Hope and the Arkansas Agricultural Research and Extension Center in Fayetteville. Results from the fruit breeding and fruit variety testing programs are used to develop lists of recommended fruit varieties for commercial fruit growers and homeowners in Arkansas.
University of Arkansas Patented Fruit Cultivars
The Technology Commercialization Office (TCO), part of the University of Arkansas System's Division of Agriculture, assists faculty with intellectual property developed from their research or other university supported activities. For the latest news on University of Arkansas fruit patents and technology inventions see TCO's Technology Search.
Extension provides a consumer-friendly downloadable list of propagators licensed to sell University of Arkansas patented fruit cultivars. Many of these licensed propagators also offer University of Arkansas fruit cultivars whose patents have expired.


In Arkansas, improved varieties of table grapes and muscadines are readily available for home gardens.
Learn more about grapes

Publications
Control Weeds
Control Pests
MP467 - Arkansas Small Fruit Management Schedule

Control Disease
MP154 - Arkansas Plant Disease Control Products Guide

Control Pests - Insecticides
MP144 - Insecticide Recommendations for Arkansas