UAEX Money
Description and Content for Header


Content and general description of blog
Home Heating 5 Ways to Save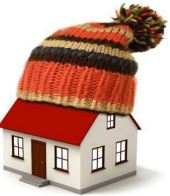 Throughout most of the state, we recently experienced our first cold spell for the season. Have you turned on your home heating unit yet? Heating your home can be a big chunk of your utility costs. According to the Department of Energy, energy bills for an average household total more than $2,000 a year. About half of this is for heating and cooling.

1. Re-set your thermostat – turn your thermostat back 10 to 15 degrees while you are sleeping or when you're away. You can do this manually or install a
programmable thermostat.
2. Maintain equipment – Have your heat and air unit serviced according to the recommended maintenance schedule for the type of unit you have. Change air
filters regularly – once a month or as needed. Dust clogged filters reduce the efficiency of the system.
3. Seal gaps. Cold air may be seeping in through openings around doors and windows. Use caulk or weatherstripping to seal leaks.
4. Let the sun shine in. Open curtains on south facing windows to let in the warmth of the sun during the day. Close curtains at night to help keep out cold air.
5. Properly insulate. Make sure that your home is properly insulated. The department of energy recommends insulation with a level R-38 value, which is
usually about 12-15 inches. The attic is the quickest and easiest place to add insulation that will give you the most bang for your buck on energy savings – up to 20% on your heating and cooling bill.

You can make changes that will help you save 20-50% on your heating costs this winter. For more details on weatherstripping, insulation, and energy-saving devices;
visit www.energy.gov.

Laura Hendrix, PhD, Associate Professor – Personal Finance & Consumer Economics
AFC® (Accredited Financial Counselor), Certified Volunteer Manager

uaexMoney is your source for reliable information. Connecting trusted research to the adoption
of best practices, we are a catalyst of prosperity. Visit www.uaex.uada.edu/Money.
Follow uaexMoney on Facebook and Twitter.

The Arkansas Cooperative Extension Service offers its programs to all eligible persons
regardless of race, color, sex, gender identity, sexual orientation, national origin, religion,
age, disability, marital or veteran status, genetic information, or any other legally protected
status, and is an Affirmative Action/Equal Opportunity Employer.