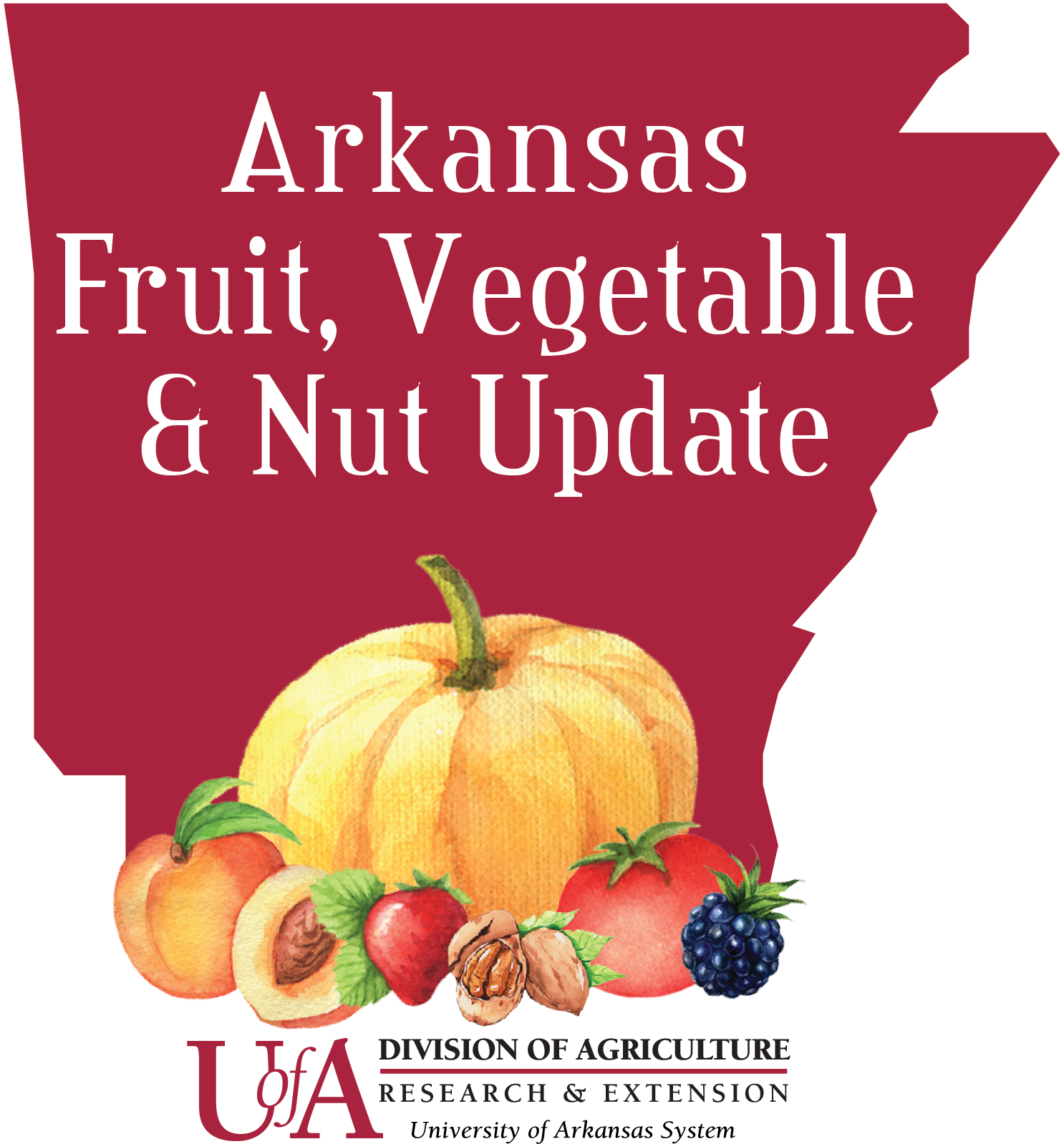 Report on Damage to Fruit Crops from Veterans Day (Nov 11th- 12th, 2019) Cold Snap
Amanda McWhirt shares her report on the Veteran's Day (Nov. 11th-12th, 2019) cold snap and the potential damage to fruit crops in Arkansas.
On Tuesday November 12th, 2019 many across Arkansas woke up to temperatures 40-50°F cooler than the previous day.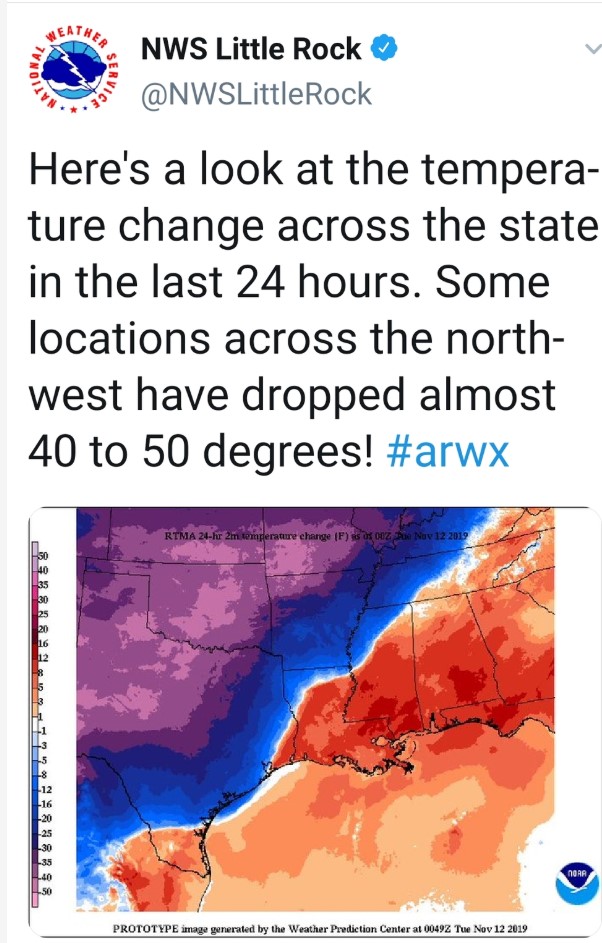 Twitter Post from the National Weather Service on Tuesday Nov 12th, 2019 stating that the state had massive temperature drops of over 40 degrees.
The low temperatures across the state fell well below freezing and in many cases set new low temperature records for that day. The temperatures remained cool throughout that day and into Wednesday.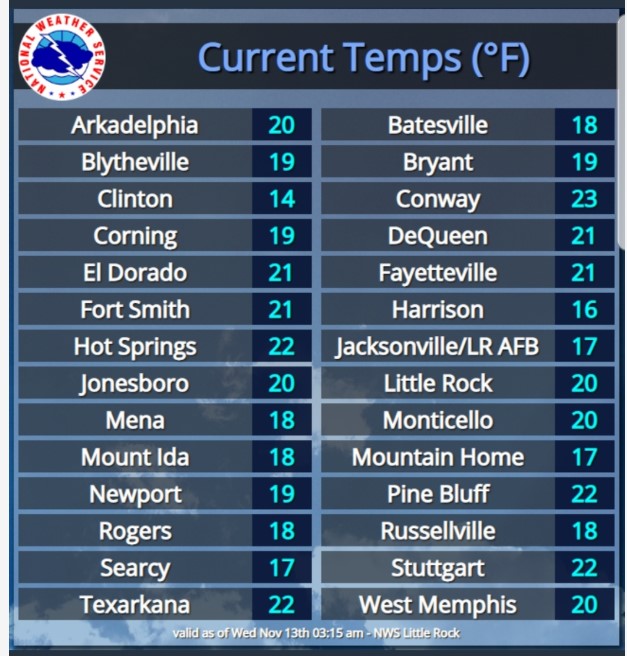 National Weather Service Posted Temperatures on Wednesday Nov 13th, 2019 at 3:15am
This event is of concern because of the drastic temperature change and that the un-seasonably cold temperatures occurred before many of our fruit crops had been completely acclimated to cold temperatures or had gone dormant.
Cold Acclimation
Once properly acclimated to cold temperatures many small fruit crops are cold hardy down to the low teens or below. See here for a chart of temperatures at which different fruit crops may experience cold damage. The process of cold acclimation in plants generally starts as the daylength shortens and colder temperatures near freezing occur. These events signal to plants to start the process of acclimating for cold temperatures and preparing for dormancy.
In some areas of the state the Veterans day freeze was the first major cold event many places experienced. This means that many plants may not have acclimated yet and may have been damaged even though the temperatures were above that which plants can normally withstand during dormancy.
Potential for damage to strawberry crops
The small fruit crop most likely to have experienced damage is newly planted strawberries. Strawberry crowns that are fully acclimated will experience damage at temperatures around 10°F or below. Leaves can be damaged around 22° F or below. Most strawberries had only been planted in late September or early October. The Northwest corner of the state had an earlier freeze that likely helped plants begin the cold acclamation process but other parts of the state had not had much cold weather yet.
The early occurrence of the cold weather also meant not all growers had their row covers ready or could only cover parts of their fields. Additionally, initial forecasts of rain occurring around the event meant there was a risk of applying a row cover and having it freeze to the plants which provides no protection and can severely damage the plants.
Starting a week after the deep freeze occurred and continuing through last week we cut strawberry crowns at four locations in AR to assess if any damage occurred. Below are my observations for each location:
Fayetteville (Measured low temperature 13°F on 11/12/19)

Plants that had row covers

did not

show signs of cold damage
Plants that were left uncovered

showed varying levels

of cold damage, some significant

The amount and severity of damage varied based on plant vigor, plant size, location within the field and variety

The north side of the rows tended to show more damage than the south sides of the row

Differences between varieties

Ruby June looked poor on the North side of the row but OK on the South,

Rocco looked better overall and had only some pith darkening

Camino Real had more damage than Rocco but less than Ruby June

Weak plants with small crown size showed more damage than plants with large diameter crowns
Clarksville (Measured low Temperature 16° F on 11/12/19)

Chandler plants that had 1oz row covers

did not

show signs of cold damage
Chandler plants that were left uncovered

showed minimal levels

of cold damage, mostly at the top of the crown
Plants that had been planted later (Oct. 9th) and had smaller crowns showed more damage
Hope (Measured low Temperature 14° F on 11/12/19)
Chandler and Fronteras plants that had 1oz row covers

did not

show signs of cold damage
Chandler plants that were left uncovered

showed little to no levels

of cold damage, but Fronteras that was left uncovered showed

minor to some major levels

of cold damage, mostly on late planted plants
White County
Plants that had row covers

did not

show major signs of cold damage

Some un-covered plants of Ruby June had some slight damage. There was some observed variability within the field, likely due to lows spots where cold air pooled in the field.
What does it mean that we are seeing damage in strawberry plants now?
Most likely some yield loss will occur, but the severity is difficult to predict.
Strawberries in November should be doing the important work of building crowns and initiating floral buds in the crown for the next spring. Damage to the crown therefore means a likely reduction in the crown growth, floral bud initiation and ultimately yield.
Much of this depends on where in crown the damage is observed and the severity of damage.
Typically, if damage occurs it starts at the top of the crown where the crown is more exposed and then moves downward through the pith into deeper parts of the crown. The pith is the middle part of the crown where the plant develops its floral buds and runners.
Alternatively, damage to the crown can be more severe if the vascular tissue (cambium) AKA the plumbing for the plant is damaged. In the pictures below the cambium can be seen as the two clear white lines on either side of the crown. If this part of the crown is damaged the effect is more likely to result in severe reductions in yield and even plant death.
Crowns with minimal levels of damage to the pith will likely recover and still produce a crop.
We will have to wait and see what happens this coming spring 2020.
Lessons Learned
Strong and healthy plants tend to be more resilient and able to withstand cold temperatures. Much of this goes back to planting on time. Late planted crops didn't get much time to grow off before the freeze event and will likely produce reduced yields compared to crops planted on-time.
Have row covers ready early in the fall and be aware of differences in cold susceptibility between varieties and locations in the field.
From the current survey it appears that Ruby June and Fronteras were more susceptible to cold injury during this freeze than some of the other varieties we looked at. This may be due to many other factors, but it is something we will continue to investigate. We will be doing cold damage assessments soon in our variety trial that was not able to be covered. We will report if we see any differences in susceptibility to cold injury among the 9 varieties we have planted.
I also looked at the buds of peaches, blueberries and blackberries and did not see major damage to buds. It is likely that we may not see the full extent of the damage from this cold event on many woody plants until the spring. Bark splitting is likely to occur on thin barked plants. Dr. Jim Robbins explains some of this here.
Resources: