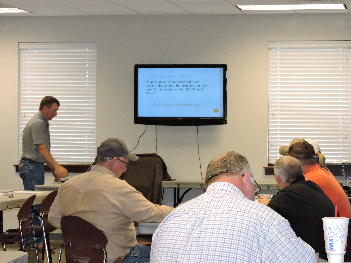 Pesticide Applicator Training (PAT) Classes
Pesticide regulations are the responsibility of the Arkansas State Plant Board. All of the acts and regulations can be accessed at the Plant Board's website.
Sevier County Extension offers several PAT classes each year for farmers and homeowners in order for them to receive a license to purchase or apply restricted use pesticides including herbicides, insecticides, and fungicides.
Classes in Sevier County begin in December of each year and usually end in April or May. For more information or to see when a class is scheduled, you may contact Sevier County Extension at (870) 584-3013 or click on Pesticide Applicator Training Sessions Calendar.
Photo: PAT class held at UA Cossatot Campus in De Queen for farmers and homeowners.