Practicing Gratitude
Practicing gratitude even for the little things will improve you mental well-being.


Nashville, Ark. – You have probably heard the phrase, "count your blessings." We see it posted on wall décor, plaques, doormats, etc. It is easy to dismiss the idea as simplistic when it comes to mental well-being, but you may be surprised by the strength of counting your blessings and intentionally practicing gratitude.
What is gratitude?
The definition of gratitude is "the quality or state of being thankful; readiness to show appreciation for and to return kindness." Gratitude comes very easily to some people and is less obvious to others. You may be a person who has feelings of gratitude often, or do you focus more on the negatives or potential problems in a situation? As a society, we need both types of personalities. The positive people keep us moving along, looking at the good things that could happen and finding good even when things go wrong. The more pessimistic people help us prepare for what might happen and what might go wrong. They are often great protectors who we want around when there's a crisis. No matter who you identify with, everyone can benefit from regular, intentional gratitude practice.
One way we can practice gratitude is as simple as saying "thank you" and truly meaning it. It is easy to just say, "thank you" or "love you" but does that come with true feeling? Intentional gratitude practice is to start paying closer attention to those times we say, "thank you." Don't make it just a habit. When you notice the desire to say, "thank you," pause and think about what you are actually thankful FOR. Make a mental note or even better express the specific thanks to the person. This process can help us achieve two key components of practicing gratitude:
We affirm the good things we've received.
We acknowledge the role other people play in providing our lives with goodness.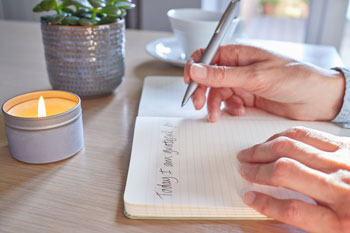 Don't forget the importance of thank you notes. Again, they should be heartfelt. Simple, heartfelt thank you notes go a long way in letting a person know how appreciative you are for something they did for you. This includes job interviews, gifts (wedding, graduation, baby, birthday) along with simple remembrances. Maybe someone prepared a meal, dessert, gave or did something special for you. Thank you notes are not old fashioned and people do remember them.
Some ways you can practice gratitude include:
Reflect on your blessings every day. Notice and jot down your gifts, graces, and benefits you experience each day. They can be small (great weather today or something that made you smile and feel loved). It could be something big, such as welcoming a new child to your family.


Share your gratitude with others. If you appreciate something someone does for you, tell them!


Be mindful of the moment. Focus on the moment instead of thinking about the past or the future. Take a deep breath and focus on what you can see, hear, taste, smell, feel, etc. Use those senses to really live in the moment.


Watch your words. Take time to think about what you say before saying it. Instead of negative talk, use positive words. This includes self-talk. Reminding yourself to use positive words and focus on what you are grateful for in a situation can lessen anxiety and stress.
Frequent, intentional gratitude practice helps to train your brain to focus on positives and notice those things that bring you joy rather than all the annoying little things of daily life. It can help reduce stress and pain. The parts of the brain associated with gratitude are in the areas where we experience pleasure. They're connected to the parts of the brain that regulate our emotions as well as heart rate. Researchers at Indiana University found that gratitude practice can help individuals with depression. Consistent gratitude can actually change brain structures and pathways leading to improved mood.
Over time, people who practice gratitude report fewer physical symptoms of illness, more optimism, greater goal attainment, decreased anxiety and depression, and other health benefits. Wouldn't the world be better if we all practiced a little gratitude?
Information for this article was adapted from the University of Arkansas System Division of Agriculture's Family Life Specialist – Dr. Brittney Schrick.
For more information on well-being, check out our webpage Personal and Family Well-Being
Recipe of the Week
This recipe will be a featured at the upcoming program, "Cooking with an Instant Pot" scheduled for Tuesday, January 24 at 10:00 a.m. at the Howard County EHC Education Center in Nashville. This hands-on training will introduce you to the advantages of using this appliance, plus look different brands and features including those that are pressure cookers/air fryers. Participants will receive tasty recipes including main dishes, sides and even desserts. If you are interested in participating in this program, you must pre-register by January 18. A registration fee of $10.00 will be charge for non-EHC members.
Ham and Cheddar Instant Pot Au Gratin Potatoes
5 potatoes, sliced thin

1 green onion, chopped

1 cup chopped ham

2 cups Plain Greek Yogurt

8 ounces Monterey Jack cheese, grated

8 ounces Cheddar cheese, grated

1 T. butter

1 cup water

Salt and pepper to taste
In a small saucepan, melt 1 T. butter.
Add chopped green onion and sauté for a few minutes until onion is tender.
Pour in Greek yogurt and let simmer until thick and bubbly, about 3 minutes.
Add in cheeses and stir until melted; set aside.
Layer your springform pan with sliced potatoes. Top with 1/3 of your chopped ham. Pour 1/3 of the cheddar cheese sauce over the top. Repeat layers 3 times.
Pour 1 cup water in the bottom of the Instant Pot. Insert trivet.
Place your springform pan on the trivet.
Cook on manual HIGH pressure for 35 minutes. Do a quick release.
To brown the top of potatoes, place the springform pan in your broiler for 2 to 3 minutes and serve.
By Jean Ince
County Extension Agent - Staff Chair
The Cooperative Extension Service
U of A System Division of Agriculture
Media Contact: Jean Ince
County Extension Agent - Staff Chair
U of A Division of Agriculture
Cooperative Extension Service
421 N. Main St, Nashville AR 71852
(870) 845-7517
jince@uada.edu

The Arkansas Cooperative Extension Service is an equal opportunity/equal access/affirmative action institution. If you require a reasonable accommodation to participate or need materials in another format, please contact your County Extension office (or other appropriate office) as soon as possible. Dial 711 for Arkansas Relay.

The University of Arkansas System Division of Agriculture offers all its Extension and Research programs to all eligible persons without regard to race, color, sex, gender identity, sexual orientation, national origin, religion, age, disability, marital or veteran status, genetic information, or any other legally protected status, and is an Affirmative Action/Equal Opportunity Employer.