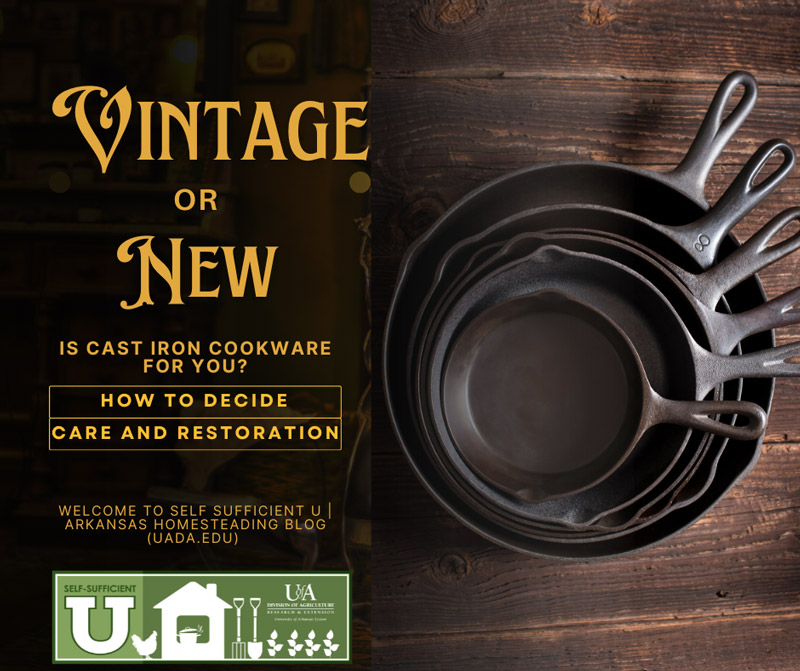 Vintage or New, Is Cast Iron Cookware for You?
by JoAnn Vann
By most accounts I could find online, American cast iron cookware manufacturing began in the late 1800's. Many foundries produced cookware under their own maker's mark, for catalog stores such as Montgomery Ward, or unmarked for early mercantile stores.
Prized for even heat conduction and durability, a set of three cast iron skillets became the essential wedding gift for brides in the early 1900's. I love adding to my own collection by shopping at flea markets, garage sales, and auctions, but my favorites will always be the ones handed down from my Granny.
Not all manufacturers were equal in quality, and some are more difficult to date making some brands more collectable than others. I use the pieces I purchase so my focus is finding pieces at a price that fits my budget that are not cracked or warped.
What I love most is that many of the items I find can be returned to usable condition with just a little work and can remain that way following simple care instructions. You can learn how to care for cast iron and prevent damage in the excellent article, "Caring for cast iron pans is as easy as 1 - 2 – 3," by Jeannie Nichols, Michigan State University Extension.
When deciding if cast iron cookware is for you consider these tips:
Cast iron is extremely durable. However, uneven, or extreme temperature fluctuations can cause the cookware to crack or warp.


Properly maintained cast iron is non-stick. Unlike newer non-stick coated pans that should be discarded if the coating becomes scratched, cast iron can be re-seasoned perpetually for a non-stick cooking experience.


Cast iron is heavy compared to newer cookware. For me, this is the biggest downside. My dutch oven is a newer sand cast piece that weighs close to 15 pounds! This may not be practical for strength and mobility challenged individuals. If this is a barrier for you, look for early American pieces that were mold cast instead of sand cast. These pieces are lighter and the highest quality pieces were sanded to remove pitting making them easier to season.


"Cooking with cast iron provides a source of iron, which is an important nutrient. Cooking foods in unglazed cast iron may double the amount of iron in foods," according to Clemson Cooperative Extension Service. To minimize iron leaching, follow these easy tips: Cookware Safety | Home & Garden Information Center (clemson.edu).


New cast iron cookware can be purchased pre-seasoned or enameled. If you do not want to complete the initial cookware seasoning on new or restoration seasoning on vintage, you can skip these steps with the many options available today.


If you have a glass top cookstove, check your owner's manual before using cast iron on the surface. Some glass top stoves are designed for heavier objects like cast iron and are more shatter resistant than others.
My most recent addition is a tea cake/popover pan that had some rusting and needed cleaning and re-seasoned.
My first step was to clean the pan using a mild detergent and chain mail scrubber. I dried and applied a light coat of oil to the front and back of the pan. Then I placed the pan upside down in the oven, set the temperature to 250 degrees and baked for about an hour before it began to look too dry.
Once the pan cooled, I checked to see how each cup looked. Some of the cups still had carbon and oil residue while others were mostly smooth, but not yet displaying the level of glaze I like to ensure food does not stick.
I repeated scrubbing each cup with chain mail to loosen the remaining residue, re-oiled and heated again for about an hour and a half to achieve the level of glaze I desired to put the pan back into use.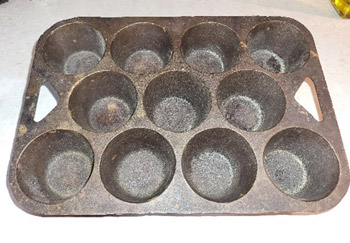 Starting condition- dirt and rust, but overall, in good condition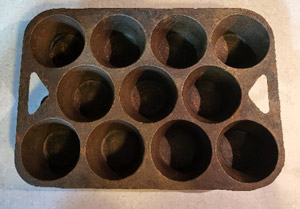 After cleaning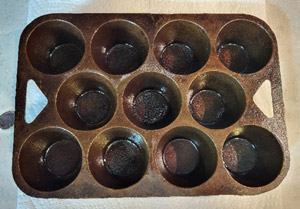 Oiled for first heat cycle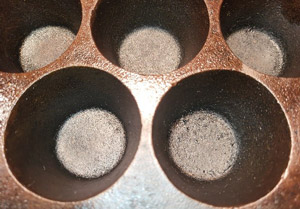 After first heating. Glaze/seasoning is starting to form, but cup on right shows excess carbon buildup and uneven sheen requiring additional scrubbing, re-oiling, and reheating.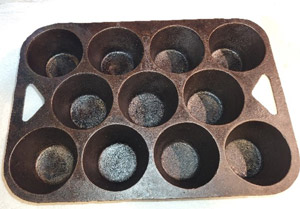 After the second heating, the pan is now showing an even sheen and is ready for use.
Ready to try out cast iron cookware?
Try these recipes for Fruit Cobbler, Chicken Skillet Ratatouille, and Chili Casserole with Cornbread topping from Cast Iron Cooking written by Tammy Kelly and last updated by Jennifer Stroud from North Carolina State Extension.
Questions?
Contact me, JoAnn Vann, County Agent at the Clark County Extension Service at 870-246-2281, by email at jvann@uada.edu, or in person at 640 S. 6th St. in Arkadelphia.