2021 Arkansas Rural Profile: Trends and Emerging Topics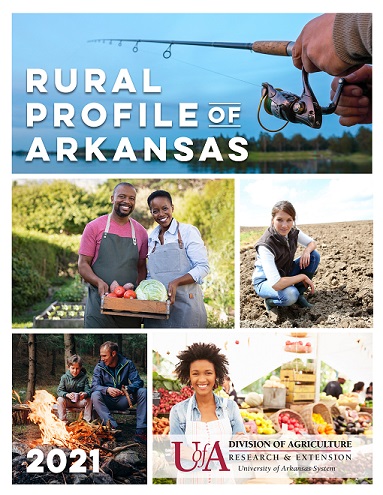 The 2021 Rural Profile of Arkansas has been released and offers a current, data-driven depiction of social, economic, and demographic characteristics of Rural and Urban regions of the state. Different areas of the state require tailored policies and programs to address regional concerns.
The 2021 Rural Profile highlights and provides a regional analysis of some emerging trends in rural Arkansas so that state and local leaders can make the most informed decisions for their communities. This biannual report has provided data and analysis for insight into those critical issues facing Rural regions of the state for over 20 years.
This year's report also illustrates how the COVID-19 pandemic highlights some of the existing issues in Rural regions of Arkansas. For instance, rural counties in Arkansas have a demographic profile that put them at greater risk of hospitalization and death from COVID-19 infections. Rural counties have a higher percentage of people over the age of 65, who identify as minorities and who are considered obese, all of which are linked to more severe outcomes of a COVID-19 infection.
Furthermore, the COVID-19 pandemic exacerbates the housing cost burden and lack of access to high speed internet already experienced by many Arkansas households, especially those that are low income.
Governmental agencies, workers students, schools and businesses rely on internet access to connect them to markets and information, particularly when in-person events are restricted. Despite the importance of high-speed broadband in a globalized economy, rural Arkansans' access to it remains low (Figure I1).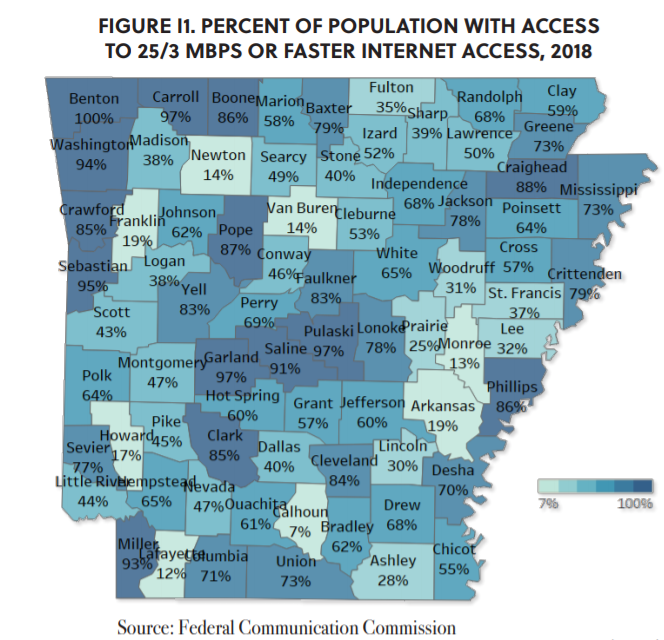 While it will take time to know the full economic impact of COVID-19, we identify trends from the decade before the pandemic to understand the changing structure and state of Arkansas' rural economies. Urban areas of the state experienced less decline during the Great Recession and showed greater gains during the recovery compared to rural areas. However, the emergence of the COVID-19 pandemic has had a substantial impact on employment since March 2020. Economic impacts from COVID-19 are just as likely to threaten rural economies, which are still struggling to fully recover from the Great Recession.
The University of Arkansas System Division of Agriculture's 2021 Rural Profile of Arkansas is a resource for all leaders in our state, from our congressional delegation, governor, and state legislators to local elected officials and community organizers.
Everyone can use this report to quickly access data and analysis that highlights major issues related to population, economy, infrastructure, social & economic stress, health, education, and local government. It is hoped that this information will be used to make Arkansas an even greater place to live and work. Get to know your rural counties, and how they are changing in the 2021 Rural Profile of Arkansas.