Holiday cookies are a delight, when prepared right
By Benjamin Waldrum
U of A System Division of Agriculture
Dec. 11, 2015
Fast Facts:
Baking cookies is a holiday tradition for many families
Don't skimp on quality ingredients when baking cookies
Tips from the pros can make a good cookie great
(551 words)
TEXARKANA, Ark. — Baking cookies is a time-honored holiday tradition, but it can be difficult to get that recipe just right. For cookies that family, friends and neighbors will ask for every year, take some tips from the pros, said Carla Hadley, Miller County Extension agent with the University of Arkansas System Division of Agriculture.
"Many families have a tradition of baking cookies at this time of year," she said. "My children and I have carried on this tradition since they were old enough to stand up in a chair. I used to get frustrated when my cookies didn't turn out right, until I figured out some tricks the pros use."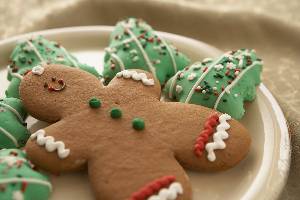 For example: skimping on some recipes can work, but not when it comes to baking.
"Quality ingredients are important," said Hadley. "You can't produce quality cookies if you're not using top-quality ingredients. Don't skimp and use a low-fat spread in place of butter or margarine in baking recipes, as this will produce a very soft cookie dough."
Other tips come in handy in certain situations. Here are some of Hadley's best tips:
When rolling out cookies: It can be frustrating when the dough sticks to the rolling pin. This is easily solved by lightly dusting the rolling pin and rolling surface with flour to prevent sticking. This may need to be repeated.
When the dough is too soft: Refrigerate for one hour.
If cookies spread and become flat after baking: Try refrigerating the dough until well-chilled, about 1-2 hours. If the dough is too soft, stir in 1-2 tablespoons of flour.
Greasing the cookie sheet: Never do this unless the recipe asks for it. Greasing a cookie sheet when the recipe does not call for it can cause the cookies to spread too much and brown too quickly. Most cookies have enough fat to prevent sticking.
To get evenly browned cookies: Use a baking stone or a shiny, aluminum cookie sheet at least two inches narrower and shorter than the oven. The sheet may be open on one, two, or three sides. When using a darker-colored cookie sheet, watch it carefully – these may cause the cookies to brown more quickly.
To ensure a perfect bake: For best results, place one cookie sheet in the oven at a time in the middle of the center rack. Baking on the bottom rack can burn the cookies or cause them to bake unevenly. Leave about two inches of space around the cookie sheet to allow for good air circulation.
Once the cookies are baked and cooled, they can be frozen for later use. Both frosted and unfrosted cookies can keep for up to two months in the freezer. "It's best to freeze them unfrosted, as sometimes frosted cookies become moist under the frosting," said Hadley.
When preparing cookies for freezing, arrange them in a container lined with plastic wrap or aluminum foil. For best results, wrap each cookie individually in plastic wrap and separate them with layers of aluminum foil. Store in airtight containers, labeled and dated.
Allow frozen cookies to thaw, loosely covered, on a serving plate for 20 minutes before frosting or serving. "The trick is being able to resist waiting that long before eating them," she said.
For more information about baking perfect holiday cookies, contact your county extension office or visit www.uaex.uada.edu.
The University of Arkansas System Division of Agriculture offers all its Extension and Research programs and services without regard to race, color, sex, gender identity, sexual orientation, national origin, religion, age, disability, marital or veteran status, genetic information, or any other legally protected status, and is an Affirmative Action/Equal Opportunity Employer.
# # #
Media Contact: Mary Hightower
Dir. of Communication Services
U of A Division of Agriculture
Cooperative Extension Service
(501) 671-2126
mhightower@uada.edu
Related Links