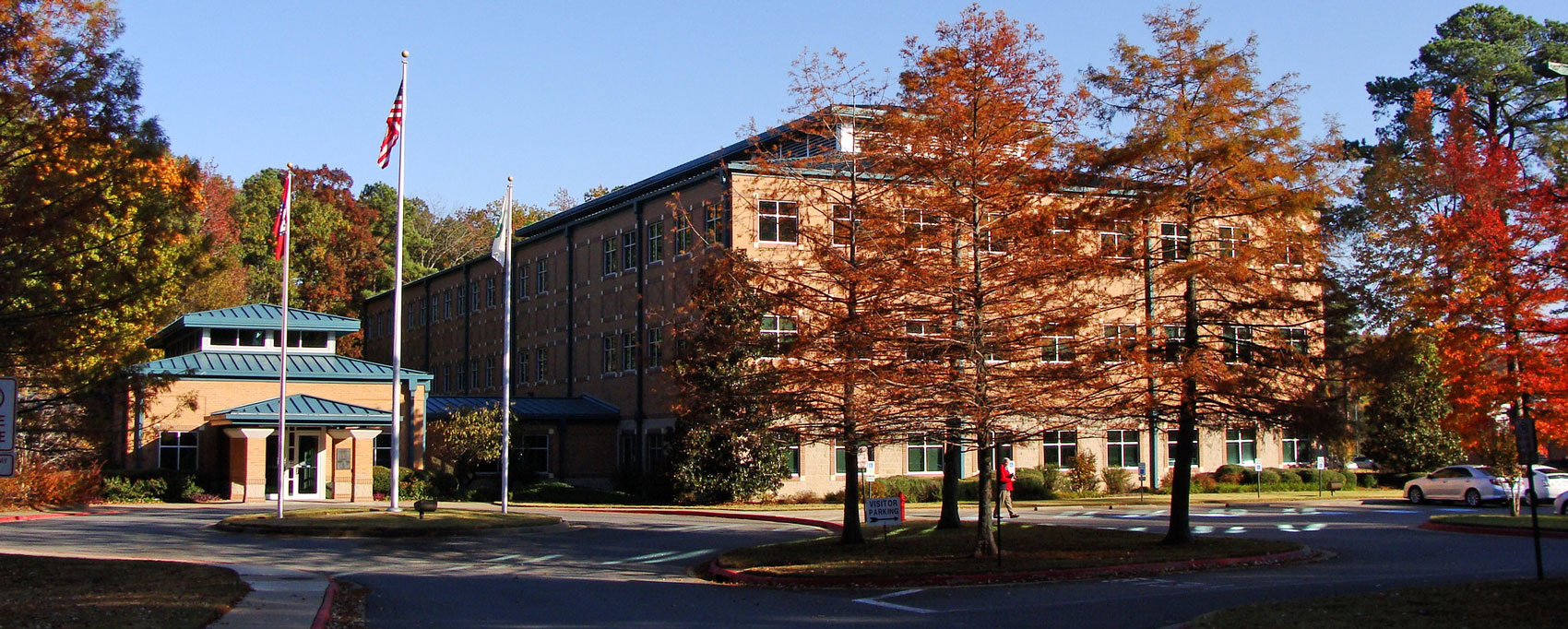 Little Rock State Office
The Little Rock State Office (LRSO) is the home of the Cooperative Extension Service of Arkansas. The facility was completed in 1996 to help bring together the agricultural services for the State of Arkansas. The building has housed the Cooperative Extension Service Administration, Researchers, Print Shop, and many other State and Federal partners since the completion.
LRSO serves as the central hub for Cooperative Extension Service Operations. Along with serving as a training center for many other state agencies due to the central location and meeting space provided. LRSO provides opportunities for growth of the Cooperative Extension Service footprint by maintaining a strong central and vital connection for counties across the state of Arkansas.
History of LRSO
Before Completion
ACES facilities were in three locations, all in leased space with contracts expiring in the second quarter of 1996.
Previous facilities included:
20,000 square foot warehouse- distribution building
12,000 square foot printshop-print paper storage building that also includes 4,000 square feet of program material
43,000 square feet of leased office space in a converted warehouse building that has no windows.
The space was intended as temporary accommodation until ACES could build new facilities and was unsatisfactory for long-term office accommodation. It was crowded, with many employees having to share space. Meeting rooms and storage were insufficient, and the heating and cooling systems were poorly designed, resulting in unsatisfactory temperature regulation in the building.
Plan of Work
The proposed project consisted of an office building (approximately 70,000 square feet), print shop-distribution building (approximately 34,000 square feet), and parking for 250 cars. Both federal and state funding was essential to the completion of the project and was applied to all phases of the project.
The total budget was $8,350,000, including all land, sitework, buildings, parking, landscaping, and fees. Federal CSS funds will provide $4,000,000 to be matched by the State of Arkansas with land for the project and $3,150,000 in state funds.
The building site was located within a 54-acre tract of state-owned land at the extreme north end of the UALR campus. The University of Arkansas Board of Trustees has transferred 18.62 acres of the property to ACES and designated the property as the Arkansas Cooperative Extension Service Campus. The property was free of debt and other encumbrances.
Reasoning for Completion
Except for Extension specialists housed in academic departments on System campuses and at Research and Extension Centers, all state-level operations of the ACES were conducted from three rented buildings in Little Rock.
The state headquarters building at the time was inadequate for our needs by any standard and could not be renovated. The former headquarters building severely impeded ACES' ability to carry out its present program objectives and to pursue outside funding sources where additional personnel were needed. As many as three Extension faculty shared a single office, and numerous faculty were housed two per office. Plans for the new facility provided private offices for all faculty and provided ten offices to be used for short-term hires working on initiative programs.
It was imperative that the new headquarters for ACES be completed by June 30, 1996. Two factors drive that timetable. First, the state had appropriated $3,000,000 for the project. Those funds had to be expended before June 1996. Secondly, rental agreements on the three buildings occupied then by the ACES headquarters operation expired during the second quarter of 1996.