Meet Dan Quadros - Small Ruminant Specialist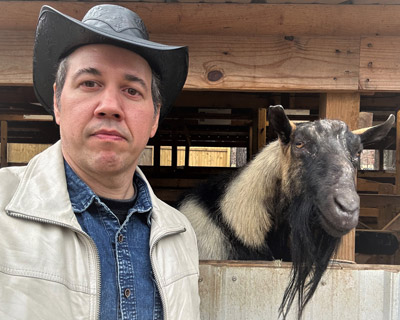 Hi, my name is Dan Quadros, Small Ruminant Specialist at the University of Arkansas System Division of Agriculture (UADA), Assistant Professor in the Department of Animal Science.
In this blog, you will find articles about news, events, market, and management tips to help grow your small ruminant business with economic, social, and environmental sustainability in mind.
I was born and raised in a family of ranchers in Brazil. Naturally, I followed the path.
I graduated in Agronomy, and I got my Master's and Ph.D. degrees in Animal Science, another Master's degree in Sustainability, and two post-docs, one at the University of Florida and another at the Texas A&M University, in forages and pastures, and livestock nutrition, respectively.
If you want to know more about my career, you can check out my CV.
I bring to the UADA my motivation, innovation, and confidence to transform the small ruminant industry in Arkansas, with appropriate technology transfer for increasing production efficiency and profit, with social inclusion, and environmental protection.
My goal is to increase producer knowledge and understanding of small ruminant husbandry/health, production, and marketing.
I will work on developing a collaborative multi-agency, transdisciplinary program that includes all segments of the small ruminant value chains.
Want to stay updated?