Other Livestock
The Extension Service strives to assist in many facets of the livestock industry. Other livestock industries Extension specialists assist with include swine and llamas and alpacas.
Swine
Extension assists the swine industry through educational programs regarding waste management, 4-H swine projects, and feral hogs.
Find Swine Resources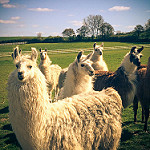 Llamas and Alpacas
Llamas and alpacas are a unique, growing industry in Arkansas. Llamas can be used as guardian animals whereas alpacas are typically raised for their fiber.
Find Resources for Llamas and Aplacas