Forage Options for Fall and Winter Grazing
John Jennings, Professor and Extension Forage Specialist
Many producers have experienced poor hay yields this year. Conversations eventually turn to options for more hay or to reduce the hay requirement this winter. Based on University of Arkansas research, several options can be considered for fall and winter forage that can stretch that short hay crop.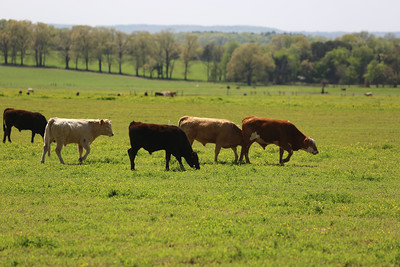 Many of these options have been proven in the 300 Days Grazing Program. Recently a producer commented that he thought the 300 Days Grazing Program only worked in north Arkansas. Nothing could be farther from the truth. Most of the forage practices can be implemented more easily in south Arkansas due to the forage base and climate. Dr. Paul Beck's research at the Southwest Research and Extension Center at Hope conclusively showed that adding three simple practices to a bermudagrass pasture base can extend a grazing season to well over 300 days. But, each of those practices requires advanced planning so don't wait until you need forage to realize you didn't start soon enough.
What forage options can extend the grazing season?
Here are ten forage options that can extend the grazing season based on our research and demonstrations. Many of them can be planted in mixtures to gain a longer productive season. For example, spring oats or forage brassica can be mixed with annual ryegrass. The oats or brassica provide fall grazing and the ryegrass provides grazing the next spring. Seeding rates of each species in a mixture can be reduced by 25-50% to achieve a final seeding rate per acre. Generally, nitrogen fertilizer should be applied at the time of planting at 50 lbs N per acre. Consider rotational or strip grazing to get more grazing days per acre. To calculate pasture set up for strip grazing or paddock size for your preferred pasture rotation, see our new online calculators on the Arkansas Forage Advisor website. Check with your county extension office for more details.
Warm-season forage options for fall grazing
Stockpiled bermudagrass
Starting date: Clip or graze field by Aug. 1

Fertilizer: 50-60 lbs N/acre before Aug. 15

Fall Yield: 3,000 to 4,000 lbs/acre

Potential grazing start date: Oct. 15
Browntop millet (earliest maturing warm-season annual)
Planting date for emergency forage: Aug. 20 to Sep. 1

Seeding rate: 25 lbs/acre

Planting method: Tilled seedbed or drilled into suppressed sod

Fall Yield: 2,500 lbs/acre

Potential grazing start date: Oct. 1
Sorghum/sudan
Planting date for emergency forage: Aug. 20 to Sep. 1

Seeding rate: 25 lbs/acre

Planting method: Tilled seedbed or drilled into suppressed sod

Fall Yield: 3,000 to 3,500 lbs/acre

Potential grazing start date: Oct. 15
Pearl millet
Planting date for emergency forage: Aug. 20 to Sep. 1

Seeding rate: 25 lbs/acre

Planting method: Tilled seedbed or drilled into suppressed sod

Fall Yield: 3,000 to 3,500 lbs/acre

Potential grazing start date: Oct. 15
Corn
Planting date for emergency forage: Aug. 20 to Sep. 1

Seeding rate: 50 lbs/acre

Planting method: Tilled seedbed or drilled into suppressed sod

Fall Yield: 2,600 to 3,200 lbs/acre

Potential grazing start date: Oct. 15
Cool-season forage options for fall/winter grazing
Stockpiled fescue
Starting date: Clip or graze field by Sep. 1
Fertilizer: 50-60 lbs N/acre before Sep. 15
Fall Yield: 2,000 to 3,500 lbs/acre
Potential grazing start date: Dec. 1
Spring oats
Planting date: Aug. 20 to Sep. 15
Seeding rate: 100 lbs/acre
Planting method: Tilled seedbed or drilled into suppressed sod
Fall Yield: 2,200 to 3,700 lbs/acre
Potential grazing start date: Nov. 15
Cereal rye or wheat
Planting date: Aug. 20 to Sep. 15

Seeding rate: 100 lbs/acre

Planting method: Tilled seedbed or drilled into suppressed sod

Fall Yield: 1,200 to 2,000 lbs/acre

Potential grazing start date: Dec. 1
Ryegrass
Planting date: Aug. 20 to Sep. 15

Seeding rate: 25 lbs/acre

Planting method: Tilled seedbed or drilled into suppressed sod

Fall Yield: 450 to 1,100 lbs/acre

Potential grazing start date: Dec. 1
Forage brassica
Planting date: Aug. 20 to Sep. 15
Seeding rate: 5 lbs/acre
Planting method: Tilled seedbed or drilled into suppressed sod
Fall Yield: 1,900 to 2,900 lbs/acre
Potential grazing start date: Oct. 20