Pecan Shuck Decline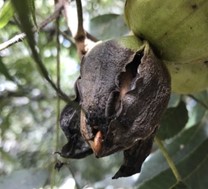 What is it?
Symptoms range from shucks turning all the way black to the tips green shucks turning black and peeling back at the suture. In some cases, kernels are black and in other cases, there is no kernel.
The degree of declining shucks is different from tree to tree.
What causes it?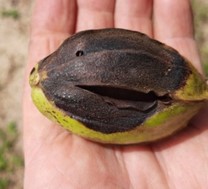 Anthracnose, is one possible cause. It is caused by the fungus Glomerella cingulate. On leaves, anthracnose looks like scorch. Growers notice these symptoms in July and August. Anthracnose is actually one of the things that causes 'scorch.'
Stress-related Problems
Shuck decline is primarily a stress-related problem and on Stuart and most prolific cultivars, it will always be worse on trees with a heavy crop load.
Especially on large, old trees with an overloaded crop it can be hard to get enough water even with the best irrigation.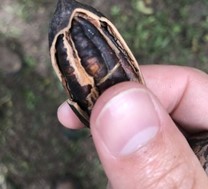 The nuts without kernel are related to this and are a natural fruit abortion because the tree cannot handle the crop load they are bearing.
What should growers do?
Continuing to irrigate is the best thing you can do to minimize the progression of this problem going forward. This will be critical if September and October turn dry.