Extension Educational Programs & Services
Sharp County, Arkansas
The Cooperative Extension Service offers a host of educational programs and services. If you do not see what you are looking for below, please contact our county Extension Office for assistance.
SHARP COUNTY FAMILY & CONSUMER SCIENCES
Sharp County ranks in the top five Arkansas counties for elderly population and children living in poverty with 24% of Sharp County households below the poverty rate. In addition, in Arkansas fewer than 25% of adults and 5.2% of adolescents consume the recommended amount of fruits and vegetables. Contact Chelsea Maguffee, FCS agent at the Sharp County office for more information about the following programs.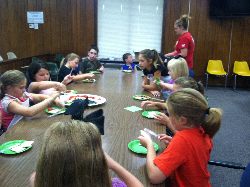 .
Photo: Cooking Camp participants learning about healthy snacks
Helping you in all areas of day to day living; fitness for the whole family, financial management, Identity theft prevention, avoiding scams, managing resources, and eating well on a limited budget just to name a few.
Services offered:
Extension Get Fit
Yoga for Kids
Consumer Protection Education
Identity Theft Prevention
Small Steps to Health & Wealth
Debtor Education referrals
The Spending Game
Budget Planning (by appointment only)
Sharp County has a high population of SNAP recipients; nutrition programs are conducted at area childcare centers, schools, senior center, and local food banks. Educational displays are located at the county DHS and WIC offices.
Sharp County Extension collaborates with other community organizations to plan and provide monthly educational programs for people with diabetes. "Defeat Diabetes" is offered the first Thursday of each month at the Sharp County Department of Health.
Services offered:
SNAP nutrition education – Right Bite; Grow It, Try It, Like It; Chef Charles; Cooking Demonstrations
Defeat Diabetes
Fight Bac (Glo Germ)
Recipe Renovation
Shake the Salt Habit
Pressure canner gauge testing
"Best Care," for training child care professionals is offered during the spring to provide area providers with ten hours of verified training. Additional training is offered online through "Guiding Children Successfully" and "Best Care Connected." The training is local and free. Sharp County has a high population of grandparents raising grandchildren and multi-generational homes; Extension offers "Adventures in Grandparenting" for this clientele.
Services offered:
Best Care
Guiding Children Successfully
Best Care Connected
Adventures in Grandparenting
In an era where organizations are struggling to maintain members, the Sharp County Extension Homemakers are still an active organization with three clubs and approximately 50 members. Extension Homemakers Clubs are found in Cherokee Village (Village Homemakers), Wirth/Hardy (Hardy Country Ladies), and Sidney. Each club has at least one main community project which varies from care bears for children who visit the health unit to receive shots to lap robes and afghans for nursing home residents.
A significant EHC project took place in 2011-12: EHC and Master Gardeners raised over $21,000 to install three industrial heat pumps in the educational building at the county fairgrounds. Our fair is held in July of each year and volunteers had experienced temperatures in the building of up to 94 degrees during the fair. Highland VFW donated $10,000 to this effort and several grants and private donations were obtained from The Community Foundation, Wal Mart, Modern Woodmen, and others.
Extension Homemaker Clubs in Sharp County
Village Homemakers, 2nd Tuesday, 1:00 p.m., Mary Ann Torbit, President - 870-257-4779
Sidney EHC, 3rd Wednesday, 1:00 p.m., Gwen Battles, President - 870-283-6684
Hardy/ Country Ladies, 4th Tuesday, 1:00 p.m., Mary Kay Erwin, President - 870-966-4620
COMMERCIAL AGRICULTURE
Commercial agriculture is a vital part of Sharp County. The Sharp County Extension Office provides a wide variety of services and educational programs. Contact Joe Moore, Sharp County Ag Agent, for more information about the following programs and services.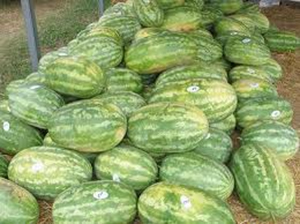 Photo: Cave City Watermelons
Sharp County watermelons producers produce an average of 1800 tons of watermelons annually. The watermelons grown in Cave City are famous across the country.
Services available:
Bangs on Farm - Soil testing - Hay testing - Water testing- Manure analysis - Plant disease diagnosis - Plant identification -Sprayer calibration
Educational Programs Available
Beef Forage - Pesticide training - Vegetable production - Fruit production- Weed & Brush control programs - Cattle & insect control - Pasture insect control - Farmers Market Development & Management Programs - Arkansas Beef Improvement Program (ABIP)
Other Home Horticulture Services Available
Master Gardener training - Vegetable Production - Plant Identification - Lawn Maintenance - Plant Disease diagnosis - Soil test counseling - Horticulture Pruning - Horticulture Maintenance Concerns - Fruit Production Management
COMMUNITY AND ECONOMIC DEVELOPMENT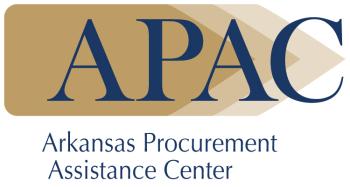 Photo: APAC Logo
Sharp County Extension personnel work with business and community leaders along with local government officials to advance the growth of Sharp County, residents and economy. Extension programs such as LeadAR help grow tomorrows community leaders. While other things such as Rural Profile and Policy development help bring government services to Sharp County. Extensions Arkansas Procurement Center helps local business bid on and receive government contracts. Extension service is also available to help establish farmers market and educate on Policy development and Ballots Issues
SHARP COUNTY 4-H YOUTH DEVELOPMENT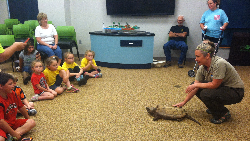 Photo:4-H Members attending a class on aquatic animals during the 4-H Aquatic Adventure trip
Sharp County Extension Service serves over 160 county youth in projects such as Sciences, Technology, Engineering and Math (STEM) as well as a variety of other activities and programs. The Extension staff and the 16 4-H volunteers support the 7 clubs and activities below. To learn more about any of these clubs or to become a 4-H volunteer contact Annie Lester at the Sharp County Extension office at 994-7363.
4-H Clubs
| Club Name | Club Type | Meeting Location |
| --- | --- | --- |
| Sharp County Livestock Show Club | Project-Livestock | The Interior |
| Rebels 4-H Club | Afterschool | Cherokee Elementary Cafeteria |
| Hillbillies 4-H Club | Community | New Hope Baptist Church |
| Ridge Runners 4-H Club | Community | Melissa Byers' home |
| Highland Rebels Afterschool Garden Club | Afterschool | Highland Middle School |
| Southern Show-ers | Community | Highland High School |
| Ruff Riders | Project-Horses | Ozark Title Co. (Main Street in Ash Flat) |
Sharp County 4-H Activities
Christmas Ornament Workshop - 4-H Aquatic Adventure-Dairy Foods Contest - Christmas parade - 4-H O-Rama
4-H Gardening Contest - Bee Keeping Essay Contest - 4-H Pumpkin Extravaganza- Cooking Camp
Awards and Recognition Banquet - 4-H Fun Day - Fair & Livestock shows - 4-H Poultry Chain - Ross Photography
District Horse Show State Horse Show -4-H Poultry Chain- Poultry Chain Trainings
Community Service Projects:
Farm Bureau Banquet Servers - Kiwanis' Pancake Breakfast Servers -Mobile Rabies Clinic
Nursing Home Visits -Thanksgiving Food Drive -St. Jude Trail Ride (Ruff Riders) -Cleaned up fairgrounds after county fair (Ruff Riders)