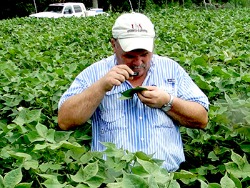 Commercial Row Crop Agriculture
Row Crop Agriculture is the primary form of agriculture in Phillips County. Each year Result Demonstrations are conducted within various crops (Cotton, Rice, Soybeans, Corn, Grain Sorghum, & Wheat grown in the county.
For production information on either of the crops listed or other crops produced in the county you can contact: Shawn Payne for more information.
Commercial Pecan Production
Though, not a major crop in Phillips County, pecans are still a viable crop. The Phillips County Extension Service provides many services and educational programs for pecan producers. Contact the Phillips County Extension Service for more information about the following programs and services.
Services Available:
Soil Testing
Disease Diagnosis
Insect Identification
Plant Identification
IPM Practices
Educational Programs Available:
Pesticide Training
Pecan Production
Other Home Horticulture Services Available:
Master Gardener Training
Vegetable Production
Plant Identification
Insect Identification
Lawn Maintenance
Plant Disease Diagnosis
Soil Testing
Horticulture Maintenance Concerns
Fruit Production