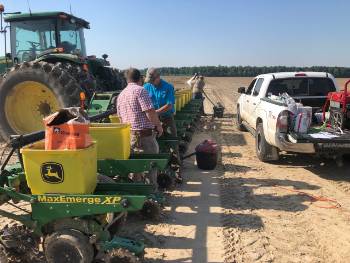 Monroe County, Arkansas Agriculture Programs
In Monroe County, agriculture isn't just a way to make a living, it's a way of life. The Monroe County Cooperative Extension Service helps preserve that way of life with research based information for crop producers. By providing information to producers in a timely manner has helped increase crop yields, reduce misapplications of pesticides, and increased profitability for growers. The Extension Service offers many programs such as pesticide applicator trainings, crop production meetings, free soil analysis, water quality sampling, plant tissue analysis, plant disease screening and much more. On farm demonstrations and research trials are also a major part of the agriculture program to provide county producers with local research and information. For more information on our services contact the Monroe County Cooperative Extension Service.
Photo: County Agent establishing cotton variety trial.
2021 Monroe County Crop Demonstrations and Research Trials