Shine the Spotlight on Holiday Side Dishes
Don't let that big bird steal the show at Thanksgiving. Side dishes are more than an afterthought; they are what makes the meal.


TEXARKANA, Ark. –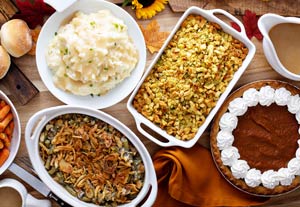 Don't let that big bird steal the show! Side dishes at Thanksgiving are more than an afterthought; they are what makes the meal. Can you imagine turkey without dressing, sweet potatoes, or other favorite side dishes?
Make your favorite Thanksgiving side dishes better than ever with these helpful hints.
Perk up your sweet potatoes with a few additions: pecans, walnuts, hazelnuts or pumpkin seeds; coconut, dried apricot pieces, dried cranberries, apples, orange zest, crushed pineapple, maple syrup, honey, rum, brandy, bourbon, vanilla, ginger, cinnamon, nutmeg, allspice or cardamom.
The inherent sweetness of these potatoes also makes them a delicious contrast to savory ingredients like cumin, coriander, lime juice, cheese, herbs, garlic and onions. In addition to the traditional casseroles, sweet potatoes make delicious pies, puddings, and quick breads.
Stuffing Tips
If you plan to prepare stuffing using raw meat, poultry, or shellfish, you should cook these ingredients before stuffing the turkey to reduce the risk of foodborne illness from bacteria that may be found in raw ingredients. The wet ingredients for stuffing can be prepared ahead of time and refrigerated. However, do not mix wet and dry ingredients until just before spooning the stuffing mixture into the turkey cavity.
If stuffing is prepared ahead of time, it must be cooked immediately and refrigerated in shallow containers. Do not stuff whole poultry with cooked stuffing.
Stuff the bird's cavity loosely. If not preparing ahead of time, do not cool the stuffing. Spoon it directly into the turkey cavity right after preparation. Stuff the turkey loosely, about three fourth cup of stuffing per pound. The stuffing should be moist, not dry, because heat destroys bacteria more rapidly in a moist environment. Before removing the turkey from the oven, use a meat thermometer to check that the stuffing has reached 165 degrees F.
Do not stuff turkeys to be grilled, smoked, fried, or microwaved.
I can't imagine the thought of dinner without Thanksgiving gravy. Does it give you the jitters? Here is a tip to make fabulously smooth, lump-free gravy with a rich, meaty, non-floury flavor. Start by making roux (pronounced "roo"), equal parts fat and flour cooked together. Warm butter or turkey fat in a skillet over medium heat and add an equal measurement of flour. Stir constantly for several minutes until light brown and well blended, and then allow to cool. Heat turkey stock and pan drippings to a simmer and whisk in approximately 1 tablespoon of cooled roux for every cup of liquid. The roux can be frozen for up to six months so you can make extra to have on hand any time you want velvety gravy at your fingertips.
Green Bean Tips
Green beans are probably a staple side dish. Not only do they add color, they contrast nicely with the cranberries. Make an elegant green bean and almond side dish for a special touch, or the traditional green bean casserole is always a welcome treat.
To make your own green beans with sliced almonds: Follow package directions for cooking frozen green beans. Drain liquid and if desired, add 1-teaspoon butter/margarine and 1-tablespoon sliced almonds for each cup of beans. These are great made the day before, refrigerated, then reheated before being served.
If you would like to receive more information about serving foods safely or would like a free copy of "An American Tradition" with turkey information and holiday recipes, contact the Miller County Extension Office, 870-779-3609.
Here is yet another version of the infamous green bean casserole. Every family may have their own version and here is my families. Grandma's Green Bean Casserole is great and so easy to make. The cheese on top with the crackers is perfect and the flavor of the onions and sour cream and green beans just melts in your mouth. This recipe is even better than the standard mushroom soup and French-fried onion version!
GRANDMA'S GREEN BEAN CASSEROLE
Makes 10 servings
2 tablespoons margarine
2 tablespoons all-purpose flour
1 teaspoon salt
1 teaspoon white sugar
1/4 cup onion, diced
1 cup sour cream
3 (14.5 ounce) cans French-style green beans, drained
2 cups shredded cheddar cheese
1/2 cup crumbled buttery round crackers
1 tablespoon butter or margarine, melted


Preheat oven to 350 degrees F.
Melt 2 tablespoons margarine in a large skillet over medium heat.
Stir in flour until smooth and cook for one minute.
Stir in the salt, sugar, onion, and sour cream. Add green beans and stir to coat.
Transfer the mixture to a 2.5 quart casserole dish that has been sprayed with nonstick cooking spray.
Spread shredded cheese over the top.
In a small bowl, toss together cracker crumbs and 1 tablespoon margarine, and sprinkle over the cheese.
Bake for 30 minutes or until the top is golden and cheese is bubbly.
By Carla Due
County Extension Agent - FCS
The Cooperative Extension Service
U of A System Division of Agriculture
Miller County Cooperative Extension Service
400 Laurel Street, Suite 215 Texarkana AR 71854
(870) 779-3609
cdue@uada.edu