Black-Eyed Peas are a Traditional New Year's Dish
Growing up in the South, it was a requirement in my parents' house to have black-eyed peas and corn bread on New Year's Day. In fact, my parents were here this weekend and mama bought black eyed peas to carry home and cook. Just in case she did not have any at home to cook on New Year's Day. Chances are you may have black-eyed peas soaking also.
TEXARKANA, Ark. –
How did anyone ever decide that eating black eyed peas on New Year's Day would bring financial prosperity and good luck?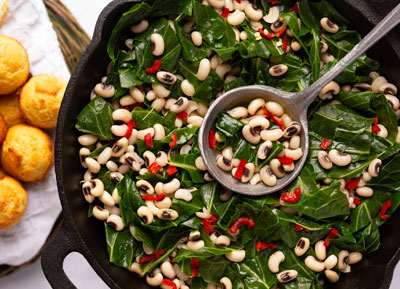 It is believed this tradition dates back to the Civil War. Union troops would strip the countryside of all food and livestock and destroy anything that they couldn't carry away. In fact, black eye peas were the only food spared by General William T. Sherman and his Union troops. Since black-eyed peas were used strictly for the feeding of cattle in the South, the troops left these "field peas" behind for the animals.
During this time of battle, no supplies went in and none came out. The entire town was on the brink of starvation. So they ate those humble field peas, starting a southern tradition. Since black-eyed peas helped save surviving Confederates from starvation they were regarded as a symbol of good luck and financial prosperity. They are symbolic of money with their small, seed like appearance which resembles coins that swell when cooked so they are consumed with financial rewards in mind.
Black-eyed peas have a scented aroma, creamy texture and distinctive flavor. These beans are characterized by their kidney shaped, white skin with a small black eye and very fine wrinkles. Lucky for us, the black-eyed pea can be purchased fresh, frozen, canned or dried.
They can be enjoyed all throughout the year since they are relatively low in calories, high in fiber and an excellent source of calcium. In fact, a one cup serving will provide you with 130 calories, 211mg of calcium, 7 grams fiber, 4 grams protein, 209 mcg of Folate and 1,305 IU of Vitamin A.
Get your black eyed peas cooking now as part of your New Year's meal to bring you prosperity and good luck!
If you forgot to soak your fresh black eyed peas, try this recipe for Fiesta Salad. It uses canned black eyed peas, is an excellent source of Vitamin C, and is even better the next day!
Fiesta Salad
1 (15 ounce) can unsalted black-eyed peas, drained and rinsed
1 (15 ounce) can unsalted whole kernel corn, drained and rinsed
One half cup chopped green pepper
One half to one cup chopped onion
One fourth cup vegetable oil
One half cup sugar or equivalent amount of artificial sweetener
One fourth cup vinegar
Mix peas, corn, green pepper and onion in a bowl.
In separate bowl combine oil, sugar, vinegar and stir well.
Pour marinade over vegetables, mix well.
Chill 4-8 hours in refrigerator before serving.
Nutritional Facts
190 calories per one half cup serving, total fat 8 g, saturated fat 1g, protein 4g, carbohydrates 26g, fiber 3g, sodium 15 mg.
By Carla Due M.S.
County Extension Agent
Family & Consumer Sciences
Miller County Cooperative Extension Service
cdue@uada.edu