Learning Substitutions Can Save a Trip to the Grocery Store
We've all been there - we start cooking and realize we're missing an ingredient. It's frustrating. Learning substitutions can help save you money by not making an extra trip to the store.
TEXARKANA, Ark. –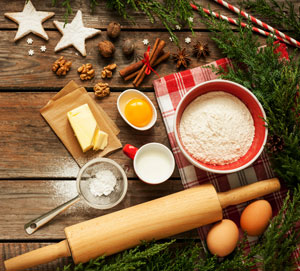 It is frustrating to start cooking and discover you are missing an ingredient. It doesn't matter if the store is 5 minutes away or 30; it really puts a hinder on your cooking process. I was lucky that at a young age, my mother taught me substitutions. One of the first substitutions I learned was for buttermilk. If we were out, I was taught to add a tablespoon of lemon juice or vinegar to regular milk and let it stand for 5 minutes. This has been a lifesaver for me. I still use it today.
If you have ever run out of an ingredient and had to make an extra trip to the store, you know how frustrating it is. Sometimes a recipe may call for a teaspoon or two of an ingredient that you may never use again and you have to buy a large container of the ingredient. In these economic times, that can be a drain on your food budget.
Learning to make substitutions can help keep more money in your pocket and make fewer trips to the store.
This is by no means an all-inclusive list, but some that you may need this time of year with the holiday cooking season near. Keep in mind that your final product made with the substituted ingredient may differ slightly from the original, but should still be acceptable in flavor, texture and appearance.
Common Holiday Cooking Substitutes
1 teaspoon Allspice. Substitute 1/2-teaspoon cinnamon plus 1/2-teaspoon ground cloves.
1 teaspoon Baking Powder, Double-Acting. Substitute 1/4 teaspoon baking soda plus 1/2 plus 1/8 teaspoon cream of tartar.

Baking Soda. There is NO substitute for baking soda.
Is there a substitute for butter?
1 cup butter. Substitute 1-cup regular margarine or 1-cup vegetable shortening (for baking). An equal amount of oil can be substituted for a similar portion of MELTED butter if the recipe specifies MELTED butter. If margarine is labeled "light," "lower fat," "reduced fat," "reduced calorie/diet" or "fat-free" or is called a "vegetable oil spread," you may be less successful substituting it for butter or for regular margarine in baking. These products are higher in water and lower in fat content and won't perform in the same way as regular butter or margarine.
Is there a substitute for liquid oil or shortening?
There is no standard procedure to substitute liquid oil for solid shortening in cooking. Oil is 100 percent fat, while butter, margarine and other solid shortenings are lower in fat on a volume-for-volume basis.
Also, for some recipes, solid shortening helps incorporate air into the batter when whipped with other ingredients such as sugar and eggs. If you try to whip these ingredients with oil, your baked product is likely to be more compact and oily in texture. Your most successful substitution occurs if your recipe calls for MELTED butter; in which case you can usually substitute an equal amount of oil.
What are the most common and effective substitutes?
This is not a complete list of substitutions, but are some of the ones I use the most. Hopefully it can save you money and time running to the grocery store.


1 cup buttermilk. Substitute 1 tablespoon lemon juice or vinegar plus enough regular milk to make 1 cup (allow to stand 5 minutes).


1 cup chili sauce. Substitute 1 cup tomato sauce, 1/4 cup brown sugar, 2 tablespoons vinegar, 1/4 teaspoon cinnamon, dash of ground cloves and dash of allspice.


1 ounce unsweetened chocolate. Substitute 3 tablespoons cocoa plus 1 tablespoon butter, regular margarine or vegetable oil.


1 cup all-purpose flour. Substitute 1/2 cup whole-wheat flour plus 1/2 cup all-purpose flour. It's generally recommended that you replace no more than half of the all-purpose white flour with whole-wheat flour. Too much whole-wheat flour in a recipe calling for all-purpose flour might result in a reduced volume and a heavier product.


1 cup self-rising flour. Substitute 1 cup minus 2 teaspoons all-purpose flour plus 1 1/2 teaspoons baking powder and 1/2 teaspoon salt.


1 cup cake flour. Substitute 1 cup minus 2 tablespoons all-purpose flour.


1 small garlic clove. Substitute 1/8 teaspoon garlic powder.


1 cup miniature marshmallows. Substitute 10 large marshmallows.


1 cup mayonnaise (for use in salads and salad dressings). Substitute 1 cup sour cream, 1 cup yogurt, or 1 cup cottage cheese pureed in a blender.


1 small or 1/4 cup chopped fresh onion. Substitute 1 tablespoon instant minced onion.


1 teaspoon pumpkin pie spice. Substitute 1/2 teaspoon cinnamon plus 1/4 teaspoon ground ginger plus 1/8 teaspoon ground allspice plus 1/8 teaspoon ground nutmeg.


Any amount rum. Substitute 1 part rum extract plus 3 parts water.


1 cup confectioners' or powdered sugar. Substitute 1 cup granulated sugar plus 1 tablespoon cornstarch; process in a food processor using the metal blade attachment until it's well blended and powdery.


1 cake. three fifth ounce, compressed yeast. Substitute 1 package (1/4 ounce) active dry yeast or scant 2 1/2 teaspoons loose active dry yeast.
Download your copy of INGREDIENT SUBSTITUTIONS or contact our office at 870-779-3609. We're online at cdue@uada.edu, on Facebook at UAEXMillerCountyFCS, on Twitter @MillerCountyFCS or on the web at uaex.uada.edu/Miller.


By Carla Due
County Extension Agent - Staff Chair/FCS
The Cooperative Extension Service
U of A System Division of Agriculture
Cooperative Extension Service
400 Laurel Street, Suite 215 Texarkana AR 71854
(870) 779-3609
cdue@uada.edu