Jackson County 2022 Agriculture Demonstrations
Row Crop Demonstrations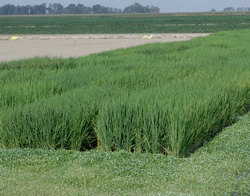 Rice Large Block Replication
Cooperator: Kent Farms
Planting Date: Pushed to 2023
Rice Variety Trial Flooded
Cooperator: Kent Farms
Planting Date: Planted 5/11/2022
Rice Variety Trial Row Water
Cooperator: Haigwood Farms
Planting Date: Not Planted as of 5/13/2022
Corn Variety Trial
Planting Date: Not Planted. Seed Available contact County Agent, Matthew Davis.
Corn Verification Program
Cooperator: Jones Farms
Planting Date: Planted April 29, 2022
Emergence: May 08, 2022
Fertilizer: 100lbs DAP / 100Ibs Ammonium Sulfate
Cotton Verification Program
Cooperator: Rowlett Farms
Variety: 411
Planting Date: 04/28/2022
Emergence: 05/13/2022


---
2022 Forage Demonstrations
Forage Weed Control
Cooperator: Cockrill Farms
Sprayed: 04/15/22
Rated: 04/28/22
Hay Fertility Demonstration
Cooperator: Cockrill Farms
Fertilizer Applied:
Rated: 04/28/22
---
2022 Horticulture Demonstrations
Commercial Strawberry Yield and Consumer Survey
Cooperator: Landreth Berries by Bill
Planted: October 2021
Estimated Harvest Start: May 1, 2022
Harvest Started: May 5, 2022
To Date Harvest in 1lbs clamshells per 100 Plants:
Camino: 25
Pick Time Average: 20 mins
Sensation: 15
Pick Time Average: 9 mins
Brilliance: 22
Pick Time Average: 12
Keepsake: 4
Pick Time Average: 5 mins
143T35: 7
Pick Time Average 5 mins
146T54: 8
Pick Time Average: 5 mins


---
State Led Project in Jackson County
Wildlife Discovery Farms
Cooperator: Lacy Farms
Start: 2019
Purpose: Understand Wildlife Enterprises and the affects the Projects have on the environment including water quality.
Poultry Litter Discovery Farm
Cooperator: Haigwood Farms
Start: 2022
Purpose: To verify are current poultry litter fertilizer recommendations and to monitor runoff from fields into waterways.