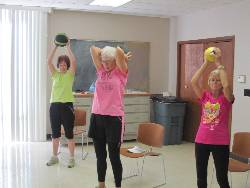 Extension Get Fit
The Extension Get Fit program (formerly known as Strong Women) is a program designed to:
Improve strength, balance and flexibility
Reduce the risk of falls
Help maintain independence
Increase energy
Help manage your weight
Decrease pain
Help you feel better
This fitness class meets twice a week, on Monday and Wednesday mornings at 9:00 a.m. Each class includes a warm up, strength training exercises, cool down stretches and a balance exercise. Our program provides a supportive group environment and is appropriate for most fitness levels.
For more information, contact your local county extension office. Come join in on the fun!
Photo: Fitness class in session