Quick and Simple Heart Healthy Meals
Simple and healthy ideas to help you prevent heart disease.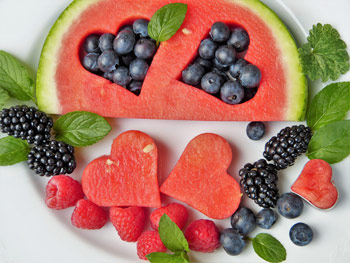 Nashville, Ark. – Unfortunately, heart disease is still the leading cause of death for both men and women in the United States.
Anyone can get heart disease, but you're at higher risk if you:
Have high cholesterol, high blood pressure, or diabetes
Smoke
Are overweight
Don't get enough physical activity
Don't eat a healthy diet
You are a woman over the age of 55
You are a man over the age of 45
You have a family history of heart disease
The good news is there is a lot you can do to prevent heart disease. It begins in the kitchen with eating healthy.
Now, you may be thinking, "I would but…not enough time, I don't know how to eat healthy, it is easier to grab ready-to-eat packaged foods or eat out!" What if you could get a home cooked, tasty meal, under 500 calories, on the table in just under 30 minutes? It is possible.
Tips on eating healthy for your heart!
Eating healthy can be done in just 9 easy steps. It begins with stocking your pantry with basic staples. Keep a supply of fat free broths (chicken, beef, vegetable), evaporated skim milk, flavorful sauces (teriyaki, barbeque, sweet and sour), fat-free dressings, a variety of pastas (whole wheat), couscous, quick cooking rice (opt for brown), applesauce, and canned fruits (packed in light syrup or own juices). Stick with quick-cooking choices for healthy meals in a hurry.
Fill your spice rack. Quick meals don't have to be bland and boring! Good spices to keep on hand include onion powder, garlic powder, Italian seasoning, oregano, pepper, cinnamon, and chili powder.


Stock your freezer with skinless chicken breasts, chicken tenders, ground turkey and beef; vegetables and vegetable medleys for stir fry; and fruit.


Keep a variety of cheeses in the refrigerator including Cheddar, Swiss, mozzarella and Parmesan. Shredding block cheese is cheaper and actually tastes better than bagged shredded cheese.


Go for time-saving packaged, frozen, or canned vegetables and fruit. Frozen and canned fruit and vegetables can be cheaper when fresh is not in season.


Follow your grocery list and don't be steered off track. By sticking to your list, you will not only save money, but you won't be tempted to purchase items in special displays that may feature items that are not necessarily healthy.


Make out a weekly menu. Yes, it takes a little time, but the payoffs are fantastic! By having your menus planned, you will know what you are preparing each night. It also helps you to develop a shopping list that you can stick to.


Involve your family in meal preparation. If one person gets home before the rest of the family, have them start dinner. Again, this is where the weekly menu pays off. Take advantage of the microwave to thaw foods.


Don't be afraid to use leftovers. Use leftover chicken in soups or casseroles. In fact, why not plan to have a leftover night? Saves on time and it also reduces food waste.


Sauté vegetables and meats in broth or water instead of butter or margarine. You'll not only get added flavor; you'll get less fat and calories.
With a little bit of planning and some shopping savvy, you can cook healthy, heart-smart meals at home with little time. If you would like more information on eating healthy or quick meal preparation, contact the Howard County Extension Service at 870-845-7517 or visit our office located on the second floor of the courthouse. The Cooperative Extension Service is part of the University of Arkansas System Division of Agriculture.
Recipe of the Week
Love fried chicken, but don't think it fits in a heart healthy diet? This recipe has only 235 calories and 6 total fat grams. It is sure to become a favorite!
Crispy Oven-Fried Chicken
Nonstick vegetable spray

4 cups wheat-flake or corn-flake cereal, lightly crushed (4 to 5 ounces)

1 clove garlic, crushed

1 teaspoon ground ginger, or to taste

1 teaspoon paprika

¼ teaspoon salt

Freshly ground pepper to taste

12 pieces chicken (about 3 ½ pounds), skinned, all visible fat removed
Preheat oven to 350°F.

Spray a baking sheet with non-stick spray; set aside.

Place crushed cereal in a pie pan or on a piece of foil.

Stir in garlic. Set aside.

Combine ginger, paprika, salt and pepper in a small bowl.

Sprinkle seasonings on both sides of each chicken piece.

Roll chicken in cereal crumbs to coat.

Spray chicken lightly on all sides with non-stick spray. Place on prepared baking sheet.

Bake for 45 to 60 minutes, or until chicken is golden brown and tender.

Timing will vary according to the thickness of the chicken pieces.

Yields: 6 servings
By Jean Ince
County Extension Agent - Staff Chair
The Cooperative Extension Service
U of A System Division of Agriculture
Media Contact: Jean Ince
County Extension Agent - Staff Chair
U of A Division of Agriculture
Cooperative Extension Service
421 N. Main St, Nashville AR 71852
(870) 845-7517
jince@uada.edu

The Arkansas Cooperative Extension Service is an equal opportunity/equal access/affirmative action institution. If you require a reasonable accommodation to participate or need materials in another format, please contact your County Extension office (or other appropriate office) as soon as possible. Dial 711 for Arkansas Relay.

The University of Arkansas System Division of Agriculture offers all its Extension and Research programs to all eligible persons without regard to race, color, sex, gender identity, sexual orientation, national origin, religion, age, disability, marital or veteran status, genetic information, or any other legally protected status, and is an Affirmative Action/Equal Opportunity Employer.