Keeping It All In Perspective
Nashville, Ark. –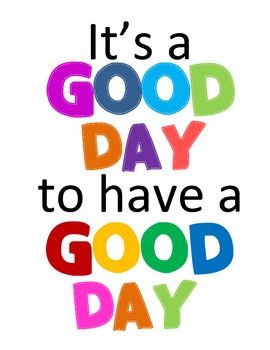 Positive energy is contagious! Have you ever been around a person who has a grumpy attitude? How did that make you feel? If you said negative, then it makes sense. Out of a negative perspective, you can only see bad things. On the other hand, how do you feel when you are around someone who is bubbly, full of life and kindness? The answer is positive.
We sometimes get into a slump thinking, Why me? Seems like nothing is going right and you end up having bad day after bad day. If you allow yourself to "wallow" in pity, you just get more and more depressed. However, if you respond to these feelings with positive self-talk, you can change your whole outlook on life.
I get it. This past year has been anything but ordinary. Not only are we still in a pandemic, but there are lots of things to do like pay bills, make dinner, and honestly—just do life. We may not be able to change things around us like the pandemic, economy, or other people, but we can change our mindset toward situations that come about our day. Try to remember that only you are in control of how you view the world, and you can impact those around you. One simple mind-shift can create a positive atmosphere not only your family will like being around, but your brain as well.
What are some easy tips to help you change your perspective?
Take time to reflect on your blessings every day. Try keeping a journal and writing down each day 3 blessings in your life. Do this first thing in the morning to start your day off right.
For every 1 negative thing you say, practice saying 2 positive things about that topic. This also works with family members and spouses. For every negative you have about your spouse, think of at least 2-5 positives about them.
Acknowledge your stress and listen to your body. It is important to take a break when your body needs it so you can be at your best!
Know how to recognize and respond to your negative self-talk.
How does stress affect your body?
Most of us know when we are under stress. But did you know it can affect eating habits, physical activity, sleep patterns, and family relationships?
Think of your body like a computer. It takes in information and puts out responses. Stress or pressure can be useful or harmful. However, if we are exposed to stress every day, all day, it can drain our system. We then need a break.
Some ways you can recognize when your body needs a break include:
Headaches: Stress can trigger and intensify tension headaches. Drink a lot of water, avoid caffeine, take brain breaks, and limit screen time.
Stomach aches: Stress can make tummy aches, nausea, and GI upset worse. Make healthy food choices for meals and snacks Choose vitamin rich fruits and vegetables. Plan regular meals and snacks throughout the day.
High blood pressure: Stress tightens blood vessels causing high blood pressure. Schedule time during the day to do some deep breathing and relaxation.
Tense muscles: Stress tightens muscles causing stress aches in the neck, head, and back. Take time throughout the day to loosen tight muscles.
Insomnia: Stress can make it hard to fall asleep. Try reading, listening to relaxing music or guided meditation. Avoid screens before bed.
Frequent Illness: The immune system cannot function as well when the body is already stressed.
Stressful situations will happen. Learn to control stress before it controls you! For more information, contact the Howard County Extension Service at 870-845-7517 or visit our office located on the second floor of the courthouse. You can check out additional resources at https://www.uaex.uada.edu/life-skills-wellness/personal-family-well-being/personal/ or you can check out the resources, "Blueprint to Happiness" or "Managing Stress" available from the University of Arkansas System Division of Agriculture.
Carrot and Raisin Salad Recipe
Try this recipe this year as part of your Easter dinner. Easy to make and tastes great!
2 cups packed shredded carrots
¼ cup crushed pineapple, packed in juice, drained
1 teaspoon sugar
¼ cup raisins
3 tablespoons low-fat vanilla yogurt
Mix all ingredients together.
Refrigerate before serving.
Yield: 5 servings.
Nutrition Information per Serving: 60 calories, 0g fat, 1g protein, 14g carbohydrate, 2g fiber, 45mg sodium. Excellent source of vitamin A. Good source of vitamin C.
By Jean Ince
County Extension Agent - Staff Chair
The Cooperative Extension Service
U of A System Division of Agriculture
Media Contact: Jean Ince
County Extension Agent - Staff Chair
U of A Division of Agriculture
Cooperative Extension Service
421 N. Main St, Nashville AR 71852
(870) 845-7517
jince@uada.edu

The Arkansas Cooperative Extension Service is an equal opportunity/equal access/affirmative action institution. If you require a reasonable accommodation to participate or need materials in another format, please contact your County Extension office (or other appropriate office) as soon as possible. Dial 711 for Arkansas Relay.

The University of Arkansas System Division of Agriculture offers all its Extension and Research programs to all eligible persons without regard to race, color, sex, gender identity, sexual orientation, national origin, religion, age, disability, marital or veteran status, genetic information, or any other legally protected status, and is an Affirmative Action/Equal Opportunity Employer.