Appetizers Make Your Super Bowl Party Memorable
Make sure the right appetizers are included in your Super Bowl weekend!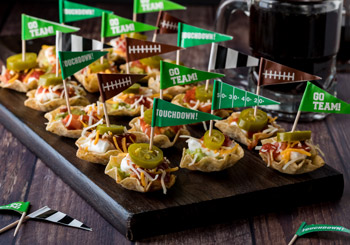 Nashville, Ark. – It doesn't matter if your team made it to the Super Bowl or not. Chances are you already have plans for Super Bowl Sunday. Let's face it; football is the favorite American sport. Whether you are celebrating quietly at home or maybe you are planning to have friends over for a big party, make sure the right appetizers are included in your plan.
Things to keep in mind when serving appetizers
When selecting which appetizers to serve, keep in mind the type of occasion, menu, number of guests, who the guests will be, and the time needed to prepare each recipe. Those that can be made ahead of time and frozen, then heated at the last minute, are especially handy. When appetizers appear as the main feature, plan a wide variety. You may be tempted to try out some new recipes, which are always a great idea, but also serve other more traditional ones that you know everyone will like.
Hot or Cold
When deciding between hot and cold appetizers, consider the amount of space available in the refrigerator and oven. It is best to make dips and spreads in advance. Many times, their flavor improves if stored in the refrigerator overnight or even two days in advance. If serving hot appetizers, they need to be served in stages, so as the guests finish one batch, another is piping hot, ready to be served.
When serving more than one kind of appetizer, offer a variety of contrasting colors, textures, and flavors. A dish of sweet and sour meatballs, a rich and creamy cheese dip, colorful fresh vegetables and your favorite chips or crackers is a multi-taste and texture combination. Don't be afraid to serve exotic or spicy appetizers. For calorie conscious guests, try to provide a few lower-calorie appetizers.
Number of appetizers need for your party
In general, the number of appetizers you will need will depend upon the length of time the guests will remain. For a four-hour period, plan on approximately eight appetizers per person during the first two hours and four appetizers per person for the remaining two hours.
Dress up those tables!
If serving appetizers on one central table, dress it up! Here is where you can let your imagination run wild and be creative. Make this a party to remember. You can use team colors or make your table look like a football field complete with field goals. Remember it's not the amount you spend on decorations that count, but that you make it memorable.
Appetizer presentation can be enhanced by using the food itself as decoration. Charcuterie boards are popular and provide enough decoration by themselves. Cheese and crackers, dips and spreads, vegetable platters all offer lots of added color to the table. Other options include Hoagie sandwiches, a favorite cheese ball shaped into a football sprinkled with chopped nuts on top and thin pepper strips for the lacing.
No matter what appetizers you choose to serve at your Super Bowl party, remember to keep hot foods hot and cold foods cold.
Recipe of the Week
Here is a great recipe to try at your Super Bowl party. Or you might just enjoy this appetizer anytime of the year! Dana Newberg, Twilight EHC Club member shared this recipe. They will go great with the Barbecue Ribs or Cornish Hens that you pick up at the 4-H Super Bowl Barbecue Sale on Saturday. There will be a limited number of ribs and hens the day of the sale which will be held at the Howard County Fairgrounds in Nashville. Ribs should be ready by 11:00 a.m. on Saturday. Be early! They sell out soon!
Hot Pepper Dip
2 (8 oz.) packages cream cheese, room temperature

1 cup mayonnaise

1 cup Mexican blend shredded cheese

½ cup Parmesan cheese

1 (4 oz.) can diced green chilies

1 (4 oz.) can diced jalapenos or 4 fresh jalapenos, seeded and chopped

1 cup Panko crumbs

½ cup Parmesan cheese

¼ cup butter, melted
Mix first six ingredients, put into a 2-quart greased baking dish.

Mix Panko, remaining Parmesan and melted butter, sprinkle over cheese and pepper mixture.

Bake at 375 degrees for 20 minutes.

Serve warm with chips, crackers, or baguette slices.
By Jean Ince
County Extension Agent - Staff Chair
The Cooperative Extension Service
U of A System Division of Agriculture
Media Contact: Jean Ince
County Extension Agent - Staff Chair
U of A Division of Agriculture
Cooperative Extension Service
421 N. Main St, Nashville AR 71852
(870) 845-7517
jince@uada.edu

The Arkansas Cooperative Extension Service is an equal opportunity/equal access/affirmative action institution. If you require a reasonable accommodation to participate or need materials in another format, please contact your County Extension office (or other appropriate office) as soon as possible. Dial 711 for Arkansas Relay.

The University of Arkansas System Division of Agriculture offers all its Extension and Research programs to all eligible persons without regard to race, color, sex, gender identity, sexual orientation, national origin, religion, age, disability, marital or veteran status, genetic information, or any other legally protected status, and is an Affirmative Action/Equal Opportunity Employer.