Planting Squash in Your Garden
Squash is a favorite vegetable to grow in your garden.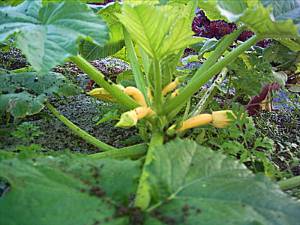 Nashville, Ark. –
One of the most common things you will find in today's garden is a form of squash. Many people enjoy growing squash during the summer to go along with other fresh vegetables. Squash has been around for 9,000 years. Today the most popular type of squash is the zucchini. Italians began using zucchini over 300 years ago and it became a favorite to Americans in the last century. The name zucchini is derivation of an Italian word meaning "sweetest".
How much squash can I expect to harvest from my garden?
In your garden if you plant 10 feet rows, you can expect 20-80 pounds of product. If you are wanting to raise enough for each person in your family, each person can eat in a growing season 10-20 pounds of garden-fresh squash. One of the best parts about squash is that it matures fast. From the time of flowering, it only requires 5 to 7 days to mature in hot weather.
What time of day is the best to spray my squash for insects or disease?
The tricky part of growing squash is not letting the insects get ahold of it, or disease to take over your garden. When treating for insects or disease, it is best to spray or dust during the late afternoon to avoid killing your pollinators such as bees.
How do I plant squash seeds?
Popular options to plant during the summer is crookneck, straightneck, zucchini, and scallop. Squash is known to grow best in a loamy, well-drained soil. Always be sure to check your soil test to make sure the soil pH is somewhere between 6.0 and 7.5. If your pH is off, applying agriculture lime two to four months before planting will help get the pH needed. Once you have established the correct soil pH, you can now start planting. For single plant production, sow two or three seeds 24 inches apart or three to four seeds in hills 48 inches apart. You will want to make sure they are covered with topsoil 1-inch deep. If you cover them too much or not enough it can result in lack of production or no production at all.
You can contact me for more information on growing squash by sending an email to shorn@uada.edu. Howard County Extension office is still working and is there for all the residences in Howard County during this time.
By Samantha Horn
County Extension Agent - Agriculture
The Cooperative Extension Service
U of A System Division of Agriculture
Media Contact: Samantha Horn
County Extension Agent - Agriculture
U of A Division of Agriculture
Cooperative Extension Service
421 N. Main Nashville AR 71852
(870) 845-7517
shorn@uada.edu

The Arkansas Cooperative Extension Service is an equal opportunity/equal access/affirmative action institution. If you require a reasonable accommodation to participate or need materials in another format, please contact your County Extension office (or other appropriate office) as soon as possible. Dial 711 for Arkansas Relay.

The University of Arkansas System Division of Agriculture offers all its Extension and Research programs to all eligible persons without regard to race, color, sex, gender identity, sexual orientation, national origin, religion, age, disability, marital or veteran status, genetic information, or any other legally protected status, and is an Affirmative Action/Equal Opportunity Employer.