Growing Strawberries
What do I need to know about growing strawberries?


Nashville, Ark. –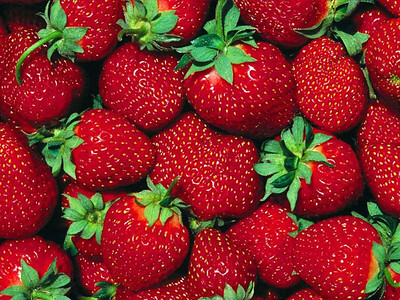 This time of year, we are all excited for those sweet red juicy strawberries. If you are considering planting strawberries, now you have the option of June-bearing or Ever-bearing. Most people growing for personal consumption prefer June-bearing. The Ever-bearing do not give off enough fruit at one time unless you have a very large amount of strawberry plants planted.
The planting sight should be in well-drained soil and full sun. You can plant your strawberries next to your vegetables or by themselves in their own bed. Once you have harvested your strawberries you will need to thin your plants to prevent overcrowding causing unhealthy plants. In Arkansas, strawberry season usually starts in April and runs through June depending on the variety.
Download the Strawberry Gardening Factsheet
What is Strawberry Powdery Mildew?
One of the problems we are hearing about right now with strawberry plants is known as Strawberry Powdery Mildew. Strawberry Powdery Mildew can infect the blooms, fruit, leaves and stem of the plant. You may notice white patches of mycelium on the bottom side of the leaf. As the powdery mildew increases, the leaves will begin to roll upward; purplish blotches may also become noticeable on the leaves. Younger fruit that has been infected during bloom may die and dry up. The older fruit will develop dark, watery spots. Those areas that are more likely to see this problem are in high tunnels or greenhouses. If you live in an area that has high humidity and low temperatures and have planted where they are not receiving much light and the days are still short, you could also have this problem.
You can contact me for more information on growing strawberries and how to treat Strawberry Powdery Mildew by sending an email to shorn@uada.edu. Howard County Extension office is still working and is there for all the residences in Howard County during this time.
By Samantha Horn
County Extension Agent - Agriculture
The Cooperative Extension Service
U of A System Division of Agriculture
Howard County Cooperative Extension Service
421 N. Main Nashville AR 71852
(870) 845-7517
shorn@uada.edu