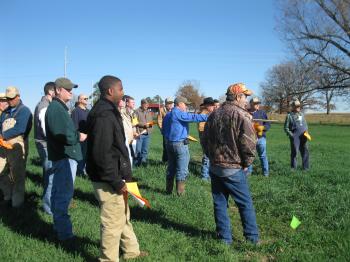 AGRICULTURE
Hempstead County has 783 farms with an estimated 203,678 acres in agriculture. Ranked 5 in the state in cattle production Hempstead County has a strong background in cow-calf production. The Extension Office works hand in hand with the farming community to offer programs that will fit the needs of producers. Hempstead County Cooperative Extension Service provides information and advise in all areas of agriculture. This includes:
Livestock (cattle, sheep, goats, swine, horses and poultry)
Forages and Forage testing
Row Crops
Turf management
Agribusiness
Pest Management
Forestry
Soil Testing
Home Gardens
To learn more about the agriculture programs contact Agent Terri James or call (870) 777-5771
Photo: 2012 Winter Annual demonstration held at Donald Hampton and Randy Hare farms in the Oakhaven community showing the different winter annuals adapted to this area and estimated production and quality.