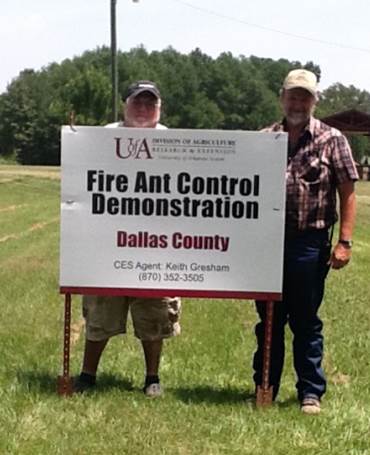 We Are Agriculture & Natural Resources - Improving profitability for agricultural business while protecting the environment.
Highlights
Bangs vaccination clinics (spring and fall) with a savings of $1200 to the producers.
15 farm pond evaluations conducted resulting in better water quality and fish production.
Conducted one Aquatic Herbicide demonstration educating the owner to use herbicides properly resulting in a cost savings of $400.
8 Herbicide Weed Control demonstrations conducted resulting in 90% control with potential cost savings of over $200,000 in five year period.
2 Fire Ant Control demonstrations using bait products, Amdro and Advion, resulting in 95% control on one site and major decrease at other site.
Educational programs conducted at cattlemen's meetings: Johnsongrass Weed Control Using Herbicides; Nuisance Wildlife Control & Illegal Baiting; Dutch Oven Cooking; Timely Topics
Conducted 80 soil test evaluations and worked with over 100 home gardeners to improve their soil fertility and vegetable production resulting in cost savings of over $1400.
2 demonstration gardens erected at the Fordyce Walmart during their Garden Center Grand Opening. The gardens were built to educate the public on square foot and container gardening.
Raise bed garden installed at Sparkman Elementary school at request of classroom teacher. Plantings in summer and fall with plants donated by Fordyce Walmart.
Pea sheller/thrasher constructed and demonstrated at local farmers market. Two producers constructed their own using plans saving $1300.
4 Herbicide Nutgrass Control demonstrations conducted with 85% decrease in population and 25% increase in vegetable production.
Multi-county Roadside Right of Way Herbicide Control demonstration and program conducted for county judges and road foremen. Two counties have implemented a program as a result of demonstration.
Photo: Mayor of Sparkman and county agent at city park, site of fire ant control demonstration.