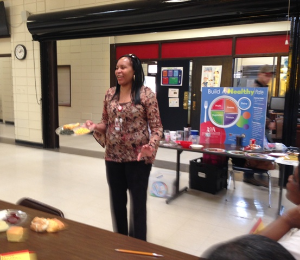 Expanded Food and Nutrition Education Program (EFNEP)
The Expanded Food and Nutrition Education Program (EFNEP) is a program of the Cooperative Extension Service of the University of Arkansas Division of Agriculture Extension and Research. The United States Department of Agriculture (USDA) and the Cooperative Extension Service fund the program.
Mission: The EFNEP program is to empower individuals, families and youth with limited resources acquire knowledge, skills, attitudes and behavior changes necessary to maintain nutritionally sound diets and enhance personal development.
Audience: EFNEP adults focus on educational programs to enhance the quality of the families' diet. The adults are taught in small groups or individually by EFNEP assistants trained by Extension educators. The majority of participants complete the EFNEP curriculum in less than 8 sessions.
The EFNEP youth program focuses on providing food and nutrition education to contribute to personal development of youth from families with low income. The youth are taught in summer or year-round enrichment programs conducted by EFNEP assistants and volunteers.
For more information about the EFNEP Program in Crittenden County contact Karley Mishler at kmishler@uada.edu or by calling the County Extension Service at 870-739-3239.
Photo: Katrina Avant teach personal development to families with limited resources .