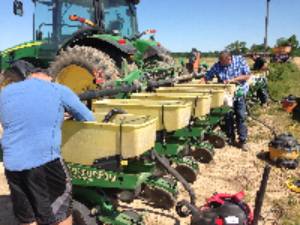 Clay County, Arkansas Agriculture Programs
Clay County is a mostly rural county with a diverse amount of agriculture including row crops and livestock. Agriculture is one of the primary sources of revenue for Clay County. Crops grown in Clay County include corn, cotton, grain sorghum, wheat, rice, and soybeans.
Row crop acreage is located on both sides of the county with Crowley's Ridge separating eastern and western Clay County. Most of the livestock, forage, and hay crops are grown on Crowley's Ridge.
Row crop acreages for 2022:
Corn 31,478

Cotton 43,645

Grain Sorghum 10

Wheat 3,114

Rice

62,198

Soybeans 111,576
Cotton
Feed Grains (Corn, Feed Grains, Wheat)
Rice
Soybeans
Livestock
Photo: Planting Clay County soybean variety plot with local producer, Gary Sheppard.