Contact the Arkansas Cooperative Extension Service
Do you need help identifying a plant, animal, or insect?
Use our "Ask the Pest Crew" form and submit a photo! For all other inquiries, use the form below.
If you know the person or department you are looking for, use our Personnel Directory.
For all other inquiries or questions, please use the form below to contact us today. We are here to help.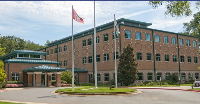 The information we gather is for responding to your question. Your information will not be shared with any other entities.
Photo: Little Rock, Arkansas, State Extension main office on University Avenue.