Extension Development Contact Information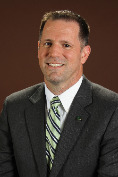 Brian Helms serves as the Director of Stakeholder Relations for the Cooperative Extension Service, and has been with the University of Arkansas Cooperative Extension Service since 1996.
Brian was raised on a dairy and row crop farm in southwest Arkansas and was happy to follow in the footsteps of his father and brother to join 4-H when he turned 9 years old. He worked as a county extension agent in Union and Howard counties before coming to the State 4-H Office in 2001. Brian began his current role in April 2014. He is a 1996 graduate of the University of Arkansas - Fayetteville where he received his Bachelor of Science degree in Extension Education and in 2001 received his Master of Science degree in General Agriculture.

Email address: bhelms@uada.edu Phone number: 501-671-2156
Leslie Middleton serves as the Executive Assistant for the Cooperative Extension Service Development Office. She began working or Extension in late February of 2022.
Email address: lmiddleton@uada.edu Phone number: 501-671-2071