Fishing Line Recycling Program - Adopt-A-Bin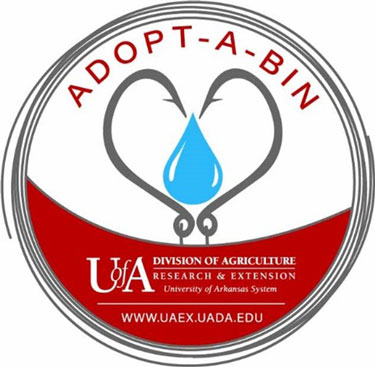 The goal of this program is threefold:
Educate the public on the harmful effects of fishing line left in the environment


Encourage recycling of fishing line by providing options


Increase the number of recycling bins throughout Northwest Arkansas
The Adopt-A-Bin program demonstrates successful best management practices to increase non-point source pollution awareness within the Illinois River and Beaver Lake Watersheds.
This project will increase the number of monofilament recycling bins placed strategically in high density fishing areas within Northwest Arkansas. With the help of community partners and volunteers, this program will help prevent fishing line from getting into highly valued bodies of water. Fishing line is collected, weighed, and sent to Berkley Recycling to be turned into something new!

Why is it important to recycle fishing line?
Plastic fishing line that ends up in the environment poses a serious threat to wildlife and boat props. Wildlife can become entangled in the line causing malnutrition, loss of limbs and death. Aquatic trash also reduces the aesthetic and recreational values of creeks, lakes and rivers.
Take Action and Participate: Adopt a Bin!
What it means to adopt a bin:
Coordinate with the Washington County Extension Office to maintain an indoor or outdoor bin
Collect and report data
Send in fishing line for recycling
Adoption options:
Adopt-A-Bin: Indoor & outdoor options
Volunteer to help build bins
Sponsor a bin
Help spread the word!
Contact the Washington County Extension office at (479) 444-1755 to get started!
Where can I find existing fishing line recycling bins?
Find current bin locations on the map below to recycle your fishing line:
How do I build a monofilament bin?
Steps to building a bin: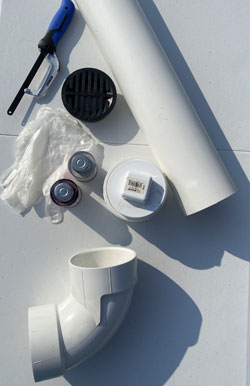 Collect supplies:

4" diameter-2-foot-long PVC
90 degree 4" diameter PVC elbow
4" sewer drain cleanout plug (male)
4" Charlotte pipe cleanout adapter (female)
4" round drainage
PVC cement
Super glue
PVC primer
Hacksaw



Assemble the top of the two-foot piece by spreading PVC primer on inside of the elbow where it connects. Then prime the top of the two-foot piece. Spread PVC glue evenly over each of the primed areas. Attach the two pieces together.


Assemble the charlotte's tube to the two-foot piece on the bottom of the bin. Unscrew the adapter plug so as not to get glue on the threaded part. Spread PVC primer where the charlotte's tube and the two-foot piece connect, followed by PVC glue.


Prepare the lid for assembly. Using a hacksaw, cut an open rectangle in the center of the 4" round drainage lid. This will enable fishers to put fishing line in the bin and prevent litter, as well as wildlife from getting into the bin.


Attach the lid using superglue. Spread the glue on the inside of the drainage lid, and well as the lip where it connects on the 90-degree elbow. Push lid into the lip to ensure a sturdy connection.
Check out our step-by-step video on how to make a fishing line recycling bin
Additional Resources