Extension Educational Programs & Services
Jackson County, Arkansas
The Cooperative Extension Service offers a host of educational programs and services. If you do not see what you are looking for below, please contact our county Extension Office for assistance.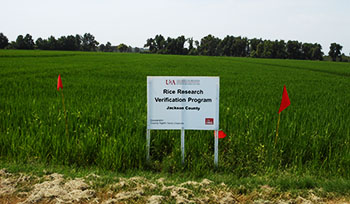 Photo: Rice Research Verification Field on David Penix Jr. farm.
Jackson County Agriculture
Agriculture is a vital part of the economy of Jackson County. Agricultural production occurs on over 80 percent of the county's 410,768 acres. Over 1,600 persons are employed in some aspect of agriculture and approximately 200 million dollars is contributed to the county economy through farm income alone. The Jackson County Extension Service provides many programs and services to assist in this important industry including but not limited to:
Crop Production Meetings
Crop Demonstrations
Field Days
Up to Date Information via Newsletters, Text Messaging, and E-Mail
One on One Consultations through Field Visits, Telephone Calls, and Office Visits
Media - Newspaper Columns, Radio Programs, and Local Cable Television Programs
Soil Testing
Plant Tissue Analysis
Manure Analysis for Fertilizer Value
Pest Identification
Pesticide Applicator Training
Brucellosis Vaccinations
Jackson County 4-H Clubs
Jackson County 4-H Youth Development serves over 60 youth in projects such as animal science, shooting sports, gardening, and photography. 4-H members can select from a variety of other activities and programs to participate. The mission of 4-H is to provide opportunities for youth to acquire knowledge, develop life skills, form attitudes, and practice behavior that will enable them to become self-directing, productive, and contributing members of society. The 4-H program is open to youth between the ages of 5 and 19. If you are interested in learning more about the 4-H program, contact the Jackson County Extension Office.