Take the Stress Out of Preparing Your Thanksgiving Turkey
Regardless of whether this is your first Thanksgiving or the 50th, preparing the holiday bird can be stressful. Here are few steps to follow to ensure you have a delicious Thanksgiving meal for you, your family and your friends.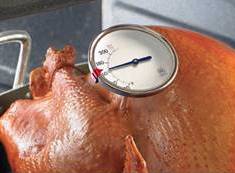 Dealing with Frozen Turkeys
There are some things to consider when purchasing the turkey. Most of the turkeys we have available come to us frozen, so let's address that option. Now is the time to purchase the turkey. You will need to allow several days for the turkey to thaw in your refrigerator, so make sure you have enough room in the fridge to thaw it properly. Be sure to plan ahead – it takes approximately 3 days for a 20 pound turkey to fully defrost in the refrigerator.
Place the turkey on the bottom shelf with a pan under it to catch any liquids that will pool as the turkey thaws. Avoid thawing in the kitchen sink or on the counter. Bacteria which are present in the turkey will grow at an alarming rate. By thawing in the refrigerator at a temperature below 40 degrees, bacteria will not grow as fast.
Cooking Your Turkey
Plan on 20 minutes per pound in a 350 degree F oven for a defrosted turkey. That means if your turkey is 20 pounds, you will need to allow about 4 ½ hours to cook.
Although many people picture the ideal turkey as one put on the table with the stuffing inside, a turkey will cook more evenly if it is not densely stuffed. Consider adding flavor by loosely filling the cavity with aromatic vegetables – carrots, celery, onion or garlic – or by carefully tucking fresh herbs underneath the breast skin. Rosemary or thyme are great herbs to use. For the stuffing lovers, cook the dressing in a casserole dish on the side.
Before you begin roasting, coat the outside of the turkey with vegetable or olive oil, season with salt and pepper and tightly cover the breast with aluminum foil to prevent over-browning.
Once you get the turkey in the oven, resist the temptation to open the oven door. When the oven temperature fluctuates, you're only increasing the likelihood of a dry bird. About 45 minutes before the turkey is done, remove the foil from the breast to allow it to brown.
Use a food thermometer to check the internal temperature of the turkey and assure a moist bird. A whole turkey is safe when cooked to a minimum internal temperature of 165 degrees F throughout the bird.
Check the temperature in the innermost part of the thigh and wing and the thickest part of the breast. All turkey meat, including any that remains pink, is safe to eat as soon as all parts reach at least 165 degrees F. The stuffing should reach 165 degrees F, whether cooked inside the bird or in a separate dish.
When the turkey has reached the correct temperature and you are ready to remove it from the oven, let it stand sitting out for 20 minutes.
Once you have enjoyed your meal, don't forget to store your leftovers properly. Cut your turkey into small pieces; refrigerate stuffing and turkey separately in shallow containers within 2 hours of cooking. Use leftover turkey and stuffing with 3-4 days, gravy within 1-2 days, or freeze these foods. Reheat any leftovers thoroughly to a temperature of 165 degrees F or until hot and steaming.
Preparing your holiday bird can be an enjoyable, stress-free task if you heed some of the tips mentioned above. Talking Turkey is a free handout available that provides information such as what size turkey to purchase, thawing methods, cooking times for both stuffed and unstuffed birds according to the size of your turkey, and more.
The Cooperative Extension Service is part of the University of Arkansas Division of Agriculture. You can also download this handout at http://www.fsis.usda.gov/wps/portal/fsis/topics/food-safety-education/get-answers/food-safety-fact-sheets/poultry-preparation/lets-talk-turkey/CT_Index
Recipe of the Week
Being creative with the leftovers can sometimes be a challenge. Remember you can use cooked turkey in place of cooked chicken in recipes. Here is a great recipe for using leftover turkey to make gumbo. The ingredients are simple, yet the results are wonderful. It will make 6 one-cup servings, so if making it for a large family; you may want to double the recipe.
Turkey Gumbo
3 cups low-sodium broth, fat removed
1 cup cooked turkey, diced
½ cup chopped onion
¼ cup chopped celery
1 (10 oz.) package frozen cut okra
1 (16 oz.) can diced tomatoes
½ teaspoon salt
1/8 teaspoon pepper
¼ cup white or brown rice
Bring broth to a boil in a large stockpot, and then add all remaining ingredients.
Cover and let boil gently for 20 minutes or until the vegetables and rice are tender, stirring occasionally.
Serve with a tossed green salad.
Nutritional Information per Serving: Calories-102, Fat-2 g, Sodium-320 mg, Carbohydrates-15 g, Fiber-7g
Media Contact: Jean Ince
County Extension Agent - Staff Chair
U of A Division of Agriculture
Cooperative Extension Service
421 N. Main St, Nashville AR 71852
(870) 845-7517
jince@uada.edu