Grill a Great Hamburger this Memorial Day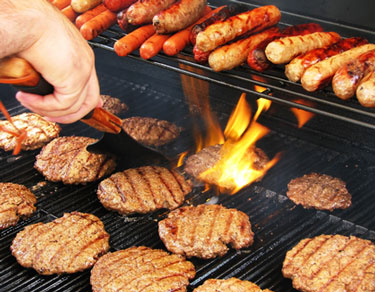 Nashville, Ark. – Memorial Day is the official kick-off to summer and many people will be firing up the grill, if they haven't done so already. Hamburgers are a favorite cookout food. Americans consume approximately 14 billion of them every year. They are such a big part of our society that it's impossible to think of American food without thinking of hamburgers.
Hamburgers can be a complete meal!
They have foods from four of the five food groups shown on MyPlate, the guide to healthy eating. They are tasty, economical, convenient and even nutritious. Lean ground beef actually provides 10 essential nutrients including protein, B vitamins, iron and zinc with 7.6 grams of fat and 139 calories. Regular ground beef contains the same nutrients, but has a higher fat content of 10.6 grams.
If you are watching your fat intake, but still want to enjoy a delicious burger this holiday, here are some tips for keeping it lean:
Avoid high fat toppings such as cheese, bacon, mayonnaise or other sauces; instead, opt for ketchup or mustard.


Pile on the vegetables! Lettuce, tomatoes, onions, peppers are all great choices. Consider adding avocados or mushrooms to make your burger gourmet. Avocados contain the good cholesterol fat therefore making them a healthy alternative. Learn all about avacado.


Grill instead of frying. With the beautiful weather we have been experiencing lately, grilling is the perfect way to cook your burger. For a juicier burger try 85/15 ground beef instead of the leaner 93/7 ground beef. A lot of the fat will drip off as it cooks, but your burger will still be juicy. The leaner cuts (93/7) may produce a burger that is too dry to be grilled.


Cook the burger to an internal temperature of 160º. Be sure to cook each patty until the center is no longer pink and the juices run clear.


Avoid flipping and smashing the burgers when grilling. Only flip the burger once during cooking. Never smash the patties while cooking, this pushes the moisture from the burger and results in a dry patty.
Once cooked, remove the patties to a large, clean plate lined with 3 layers of paper towels. Let stand one minute. Turn over after 30 seconds, and blot again. This helps remove extra fat. Serve on your bun of choice.
Whole-wheat buns have more fiber, less fat and calories than traditional white buns. Be sure to read the nutrition facts label to determine which is the best choice for you. USDA Dietary Guidelines recommend having half your grains coming from whole grains.
Have a safe and happy Memorial Day this weekend! Remember the men and women who fought and died preserving our freedoms. For more information on MyPlate, the Dietary Guidelines or other general nutrition information, contact the Howard County Extension Office at 870-845-7517 or visit our office located on the second floor of the courthouse. You can also e-mail me at jince@uada.edu
Recipe of the Week
Want to "spice it up" this Memorial Day? This burger can be as hot or mild as you want. This recipe was shared by the Arkansas Beef Council. It makes a great gourmet burger!
Southwestern Burgers
1 pound ground beef
2 Tablespoons hot salsa
1 jalapeno pepper, seeded, chopped
½ teaspoon ground cumin
½ teaspoon salt
1/8 teaspoon crushed red pepper
1 large tomato, cut into 4 slices
Guacamole – use your favorite recipe or see the one below
4 soft corn tortillas, warmed
Combine ground beef, salsa, jalapeno pepper, cumin, salt and red pepper, mixing lightly but thoroughly.
Shape into 4 patties, 1/2 –inch thick.
Broil patties over medium coals 5 minutes.
Turn and continue broiling 5 minutes or until done.
Place patties on tomato slices and top with Guacamole. Serve with warm tortillas.
Guacamole
1 large avocado, peeled, seeded and cut into pieces
1 small onion, quartered
2 teaspoons lemon juice
1 teaspoon Worcestershire sauce
¼ teaspoon hot pepper sauce
¼ teaspoon salt
¼ teaspoon sugar
Place avocado, onion, lemon juice, Worcestershire sauce, hot pepper sauce, salt and sugar in food processor bowl or blender.
Process until mixture is blended.
Cover and refrigerate until ready to serve. Yield: 1 cup
By Jean Ince
County Extension Agent - Staff Chair
The Cooperative Extension Service
U of A System Division of Agriculture
Media Contact: Jean Ince
County Extension Agent - Staff Chair
U of A Division of Agriculture
Cooperative Extension Service
421 N. Main St, Nashville AR 71852
(870) 845-7517
jince@uada.edu