Shopping for Back to School - College Style
Fast Facts:
Coordinate with your roommate on what each of you plan to bring
Storage space is limited in dorms, so only bring necessary items
Decorating doesn't have to be expensive, so you will need to shop around
Add pops of color through comforter sets and artwork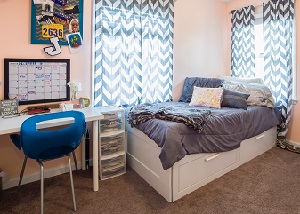 Nashville, Ark. – Many parents will be sending their first child off to college this fall. This can be a very exciting time for both parent and child. Most first time college students will have participated in orientation and have seen where their student will be living the next few years. The typical dorm room is small, cramped, and basic and doesn't fit within the pages of the latest Southern Living home décor section. So, how can you transform this basic space into something that will be comfortable and feel a little more like home?

For most students, the dorm room will be home sweet home for at least nine months of the year. It will be a place to study and to kick back with friends. It should be a place where you can express yourself, shout your style, and parade your pizzazz—without breaking campus rules or your budget!

The first thing you should do is visit with your roommate and coordinate what each of you is planning to take. There is nothing worse than having two refrigerators but no TV or, worse still, two of everything!

While it is fun to plan, shop, and pack new college gear, don't kid yourself. There will be only so much space in your dorm room and in most dorms, there is practically no storage space.

There are some simple things you can do and some necessary items you will want to consider as you head off to shop the next few weeks for back to school supplies for your college student. College packing lists can be found online through several sites. Most colleges will even have a suggested packing list. Determine what your individual needs are and be sure to pack those items. Remember, you can pick up items later when you come home.

But how can you transform a typical dorm room into something that will feel a little more like home?
Decorate with Style & Comfort in Mind
Keep in mind that your dorm room doesn't have to be expensive. Shop around for the best bargain. Many stores will be running sales on these items in the next few weeks.
Add a little color with sheets, comforter, throw pillow and towels. Dorm room curtains are notoriously ugly, so replace with inexpensive curtains or add color with a valance. A couple of plants can also add a little color.
A mattress topper or pad can really improve the comfort of a dorm bed. They are fluffy and comfy and available in either feathers or fiberfill.
Large body pillows are great for sleeping, but can also be used to turn a dorm bed into a "sofa" or for extra floor lounging.
A big rug can soften the look and feel of hard institutional flooring and make it more inviting to lounge or exercise on the floor. A 5 x 8-foot rug should be big enough. If possible, measure the space to get the right size. Be sure to get a small sweeper to vacuum periodically.
Good lighting at your desk, by a chair, or near your bed can make it easier to read and work.
A comfortable place to sit is a must for studying, lounging, or talking on the phone.
Use artwork, such as posters, photos, pennants, etc., to reinforce your room theme or highlight your special interests.
Closet storage accessories, such as peg racks, over-the-door shoe racks, belt and tie holders, and hanging shelves, can help organize your clothes and accessories to keep them off the floor, chairs, or your roommate's bed!
Plastic totes are made to organize and carry just about everything. Buy inexpensive, brightly-colored, handled totes in several sizes. A big one on the floor of your closet can be used to collect laundry and use another to hold bathroom supplies. Simply grab and go!
A large bulletin board is essential for notes, photos, schedules, and assignments. It can help you get organized, show off mementos, and serve as a message center.
Filing space is another must have to organize completed schoolwork, insurance papers, and much more. Consider a locking file box for important papers such as bank account numbers, selective service papers, health/immunization records, etc. especially if you are more than two hours from home.
You can make your dorm room comfortable and cozy without spending a fortune. By making it your "own," you'll love living there!
For more information on important papers to keep, setting up a filing system, or other consumer information, contact the Howard County Extension Service, University of Arkansas Division of Agriculture at 870-845-7517 or visit our office located on the second floor of the courthouse.
Recipe of the Week
College students love having food from home. Here is snack recipe that you can make ahead of time and pack to send with your student to enjoy once they unpack everything from moving in day.
Caramel Snack Mix
8 cups popped corn
2 cups Corn Chex cereal
¾ cup pecan halves
¾ cup whole almonds
1 cup light brown sugar, packed
½ cup light corn syrup
½ cup margarine
1 teaspoon vanilla
½ teaspoon baking soda
¼ teaspoon salt
Combine popped corn, cereal and nuts in a 9 x 13-inch baking pan.
Heat remaining ingredients to a boil in medium saucepan.
Boil for five minutes. Pour over corn mixture, stirring to coat.
Bake at 200 degrees for one hour; stirring every fifteen minutes.
Cool on waxed paper. When completely cooled, break up and store in air tight containers.
By Jean Ince
County Extension Agent - Staff Chair
The Cooperative Extension Service
U of A System Division of Agriculture
Media Contact: Jean Ince
County Extension Agent - Staff Chair
U of A Division of Agriculture
Cooperative Extension Service
421 N. Main St, Nashville AR 71852
(870) 845-7517
jince@uada.edu

The Arkansas Cooperative Extension Service is an equal opportunity/equal access/affirmative action institution. If you require a reasonable accommodation to participate or need materials in another format, please contact your County Extension office (or other appropriate office) as soon as possible. Dial 711 for Arkansas Relay.

The Arkansas Cooperative Extension Service offers its programs to all eligible persons regardless of race, color, sex, gender identity, sexual orientation, national origin, religion, age, disability, marital or veteran status, genetic information, or any other legally protected status, and is an Affirmative Action/Equal Opportunity Employer.