Fix-It-Quick Ideas for Breakfast
Here are some ideas for jump starting your child's morning with quick-to-fix nutritious ideas for breakfast.
Nashville, Ark. – It's the back-to-school scene every parent dreads. The alarm goes off; the kids yank their covers over their heads and refuse to budge. When they finally emerge, they spend forever trying to decide what to wear, fight over the bathroom and go at the speed of molasses to the breakfast table. One of the biggest challenges as a parent is providing a nutritious breakfast each morning that consists of more than just a bowl of cereal. While cereal is fast and can be nutritious, it does get boring after a while. Here are some ideas for jump starting your child's morning with quick-to-fix nutritious ideas for breakfast.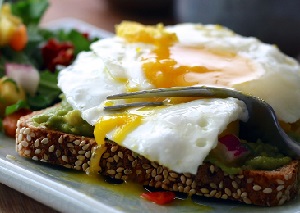 Benefits of Breakfast
It really is true that breakfast is the most important meal of the day. Think about this. You have been asleep for 6 to 8 hours with nothing to eat. Breakfast provides that jump start we need in order to get our metabolism going. It fuels the body with nutrients we may not get any other time during the day.
Breakfast provides food energy for the morning's activities. Studies show that children who eat breakfast learn better. They are more alert and ready to face the challenges of the day.
Breakfast helps keep a healthy body weight. It helps control the urge to nibble or eat too big a lunch. It also gets your metabolism going. A high metabolism burns calories faster.
A nutritious breakfast helps kids feel good. Children may get tummy aches if they miss breakfast. These aches are often associated with hunger pangs.
Getting your Child to Eat Breakfast
Eat breakfast yourself. "Showing" teaches more than simply "telling." Children are more likely to follow what an adult does.
Manage morning time better by starting breakfast the night before. Set the table, mix the juice, slice fruit, or make hard-cooked eggs.
Go to bed earlier so you can get up earlier.
Stock your kitchen with quick-to-fix breakfast foods.
Offer your child at least two choices for breakfast. They will feel in control and are more likely to eat.
Give your child time to wake up. Some children do better if they are awake for a little time before eating breakfast. Others prefer to eat as soon as they get up.
Ask your child to help with breakfast. One idea is to stock your pantry or a corner of your kitchen with prepared quick-to-fix breakfast items and let your child help fix their own breakfast. Teach your child to pour their own cereal, open packages, etc., especially if you work too.
Here are some ideas for stocking your pantry or preparing quick-to-fix breakfasts.
Ready-to-eat cereal with milk and fruit
Peanut butter on whole wheat toast
Bagel with cheese
Reheated rice, hard-cooked egg
Grits topped with cheese
Oatmeal with applesauce
Pita bread and yogurt
Toasted waffle topped with sliced fruit
Prepackaged foods can be a great alternative. Be sure to read the nutrition label before purchasing these items. Many are loaded with lots of sugar and fat that needs to be limited in the diet. Also, prepackaged foods will cost more.
Once you get in the habit of preparing a healthy breakfast for your child and/or family, it will become an easy task to do. Keep in mind the benefits and importance of a healthy breakfast: better math and reading scores, better classroom behavior, and better school attendance.
For more information of healthy breakfast ideas, contact me, Jean Ince at the Howard County Extension Office at 870-845-7517 or visit our office located on the second floor of the courthouse.
Recipe of the Week
Here are a couple of quick-to-fix breakfast ideas.
Easy French Toast Sticks
3 eggs
¾ cup milk
1 teaspoon vanilla
1 tablespoon butter
4 slices bread, each cut, lengthwise, into 4 pieces
Sugar
Cinnamon
Maple syrup
Melt butter in skillet. Mix eggs, milk and vanilla in bowl. Beat well, coat slices of bread in mixture. Brown the soaked bread in skillet. Sprinkle with a little sugar and cinnamon and serve with maple syrup.
Make this recipe even quicker by doing some of the preparation the night before. Go ahead and mix up the batter, cover and put in the refrigerator. Cut the bread slices and put in a zipper type plastic bag. Mix the cinnamon and sugar in a shaker type container or small bowl. Next morning, coat the bread slices and brown. Add a teaspoon of the cinnamon and sugar mixture and enjoy.
---
Western Omelet
2 tablespoons butter
6 large eggs
¼ cup finely chopped bell pepper
1/3 cup finely chopped onion
¾ cup milk
¾ cup chopped cooked ham
¾ teaspoon salt
Dash pepper
Ketchup
In a skillet melt butter. Beat eggs and whisk in remaining ingredients. Pour mixture into hot skillet. Cook, stirring to cook evenly. Turn and cook other side. Serves: 4 to 6
This recipe can be mixed up the night before and put in the refrigerator. Next morning, use a soup ladle to pour mixture into medium-hot skillet. Another idea would be to chop all the ingredients the night before and make the omelets to order the next morning.
---
Apple Pancakes
2 cups pancake mix
1 cup water
1 cup chunky applesauce
¼ to ½ teaspoon cinnamon
Preheat griddle or skillet to 375 degrees. Combine pancake mix, water, applesauce, and cinnamon. Stir just until large lumps are gone. Lightly brush griddle or skillet with oil. Pour about ¼ cup batter onto griddle or skillet for each pancake. Cook about 1 minute, until top edges bubble and bubbles break. Turn and cook about a minute longer, or until browned. Makes about a dozen pancakes.
Again, do the preparation the night before. Consider storing the mix in pitcher with a spout in the refrigerator. Next morning, stir the mixture and pour onto hot griddle or skillet.
By Jean Ince
County Extension Agent - Staff Chair
The Cooperative Extension Service
U of A System Division of Agriculture
Media Contact: Jean Ince
County Extension Agent - Staff Chair
U of A Division of Agriculture
Cooperative Extension Service
421 N. Main St, Nashville AR 71852
(870) 845-7517
jince@uada.edu

The Arkansas Cooperative Extension Service is an equal opportunity/equal access/affirmative action institution. If you require a reasonable accommodation to participate or need materials in another format, please contact your County Extension office (or other appropriate office) as soon as possible. Dial 711 for Arkansas Relay.

The Arkansas Cooperative Extension Service offers its programs to all eligible persons regardless of race, color, sex, gender identity, sexual orientation, national origin, religion, age, disability, marital or veteran status, genetic information, or any other legally protected status, and is an Affirmative Action/Equal Opportunity Employer.